Merħba!
Hey guys!
I'm sorry about this late post… The last 2 weeks I've been quite busy getting to know Sharklab, Malta, and some of the people from my hostel 🙂
On August 12 I arrived in Malta and took a bus to San Ġiljan, my new place of residence for at least an entire month. I got out of the bus too early and got kinda lost… Luckily, some locals happily offered to help 🙂 The walk to the hostel contained a lot of steep hills with my big suitcase and I was glad that the heat and exhaustion didn't lead to dehydration.
The hostel is really nice and the people are laid-back and of many different nationalities. Every Friday night there is a barbecue to hang out with all the other travelers.
Malta is a rocky island that's bursting with culture and history. The language is an interesting mixture of other languages and the sea is a wonderful shade of blue. A nice other plus of Malta (for me) is that the restaurants and stores provide meals/products for people with, let's say, alternative diets. I really did not expect that from this tiny country! But on the very first night I had a vegan meal at an Italian restaurant and the owner even announced that he would have a vegan special two days later. Awesome.
Valletta
Valletta is the pretty capital of the country with a busy harbor. The European Capital of Culture 2018 is a true gem on the Mediterranean Sea. There always seems to be some sort of festival coming up and I was fortunate to have visited the Jazz Festival.
Every day they fire cannons at 12.00 and 16.00 o'clock. If you think that's the only noise you will hear, you are definitely wrong. The Maltese love to use fireworks on the many different "festas" throughout the entire country. And not only in the evening 😉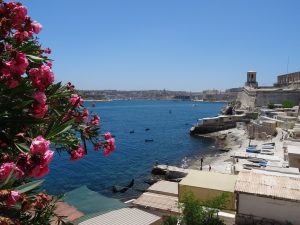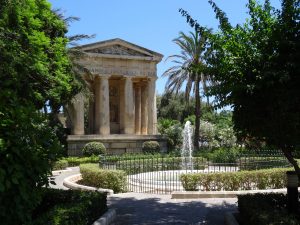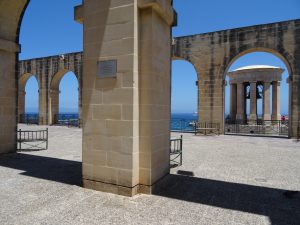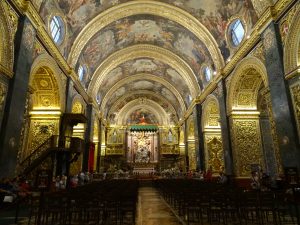 Sharklab
I met with Greg from Sharklab on an awareness event. There were not many visitors, but that gave us time to talk. Tuesday and Thursday (early… Really early…) mornings are now going to be fishmarket days for me, where we look at the sharks, rays, and skates they have caught. Then we measure them and take other information. When there are female egg laying sharks we take the eggs, put them in an aquarium, and hope they are fertilized so we can release the sharks back into the sea.
With Pam and Dave I've done a dissection and removed the jaws of a dead shark. Difficult and smelly work, but a nice educational tool. Pam and Dave were so kind to lend me their mountain bike and a wetsuit. In such a tiny country it can be easier to cycle places. Cars and buses always get stuck in traffic jams. However, it is not nearly as safe as cycling around in the Netherlands. Or as flat.
Another activity I've done with Sharklab is a snorkeling activity. We went to Golden Bay (a sandy beach instead of the many rocky beaches) and took people into the water to see common stingrays and even 2 bull rays! No sharks though, as they are overfished…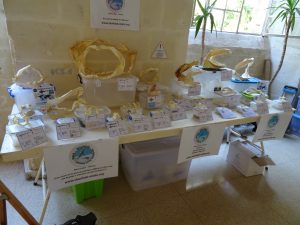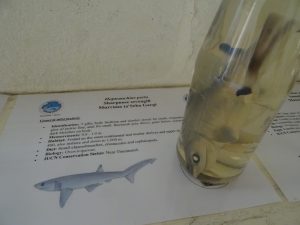 Mosta
Mosta is located land inwards and has a pretty cathedral.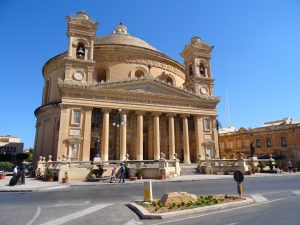 Mdina & Rabat
Mdina used to be the capital of the country and it is a really beautiful walled city. It is located on a hill and provides beautiful views over the rest of the island. Rabat is right next to Mdina and has interesting churches and some catacombs. Unfortunately, we were not allowed to take photos inside of the catacombs. But they did have an interesting little museum. They had lots of gemstones, artifacts, bones, coins, etc. And not just from Malta! I guess that the person living there has some sort of hoarding issues.
Game of Thrones has filmed a couple of scenes in Malta for the first season and Mdina and Rabat have a couple of those locations.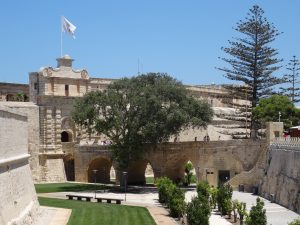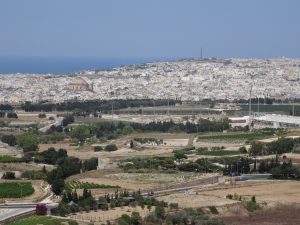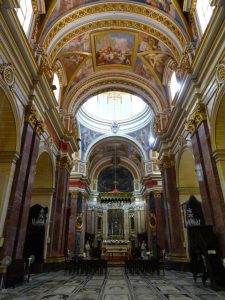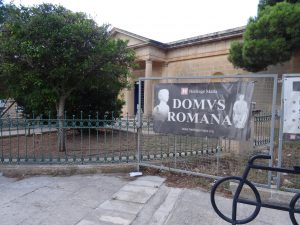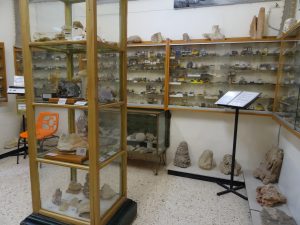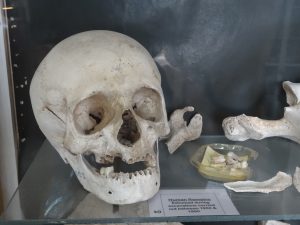 Game of Thrones locations: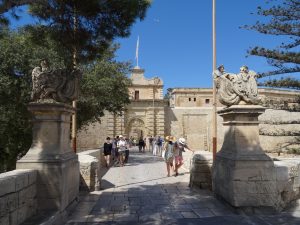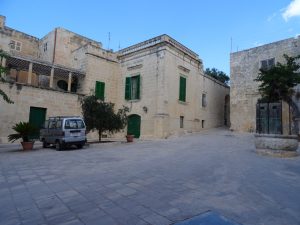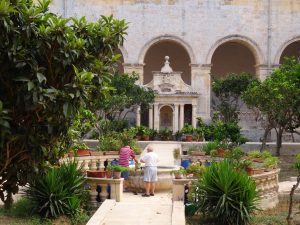 Three Cities
On my bicycle I went to the Three Cities. Cycling through the busy Marsa was not ideal, but it was a good workout and it's easy to get around with. Birgu and Isla are both walled cities with nice views on Valletta. When I was ready to ride back again and wanted to unlock the bicycle, I noticed that the metal bits inside of the lock had broken… Luckily, there was a hardware store just down the road. They lent me a tool to cut the lock and sold me a new one. Let's see how long this lock will last 😉 The timing was not that great, though. Because I needed to get back to make it in time for the opening of the Jazz Festival.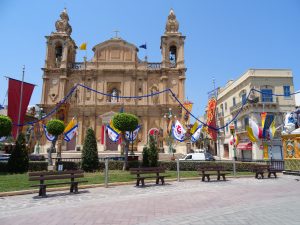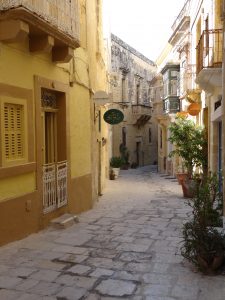 Jazz festival
So, I was a bit late for the first (free) night of the Jazz Festival. I did manage to see the first jazz band, which was very good 🙂 It's really cool that they decided to place the podiums in the middle of the city center with historical buildings in the background.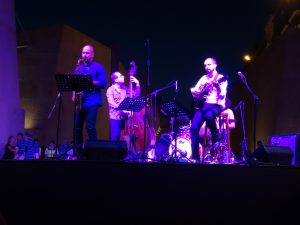 Golden Bay
A sandy beach! Let's go snorkeling with Sharklab!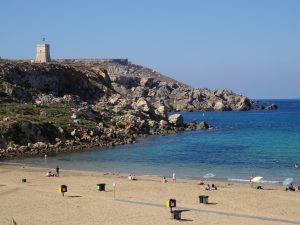 Paceville
Thé place to go out in Malta. Paceville is filled with bars, clubs, and drunk young adults. Not the place for me.
Sliema beach
With three lovely girls from my hostel I went to the …beach(?) in Sliema. You can't really call it a beach, though. It's basically rocks from which you can climb or jump into the water. The view on Valletta is lovely and the water temperature is really nice. Later we got the company of two French guys we had already met and we shared a plate of sushi.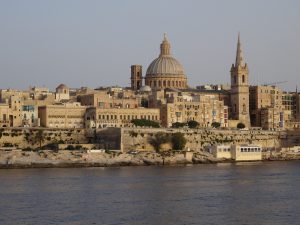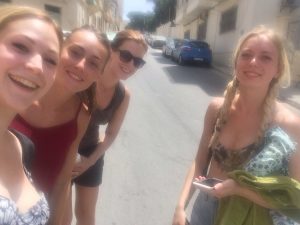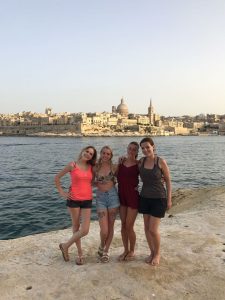 This week I'm going to have a couple of Sharklab activities. Tomorrow I will go to the Malta National Aquarium for a school tour. Sharklab is working together with the Aquarium to let the young sharks (from the egg search) grow stronger before they are released into the sea. There are also a couple of snorkel activities and (hopefully) we'll go to the fishmarket on Thursday.
Stay tuned for more updates.