Moscow
Hi all,
the last couple of days I've been in both Saint Petersburg and in Moscow. This is what I've been up to:
On August 22, I went to the Peter and Paul's fortress. To get there, you have to walk a bridge where people are throwing coins at a statue of a rabbit. Apparently, you have to hit it for fortune.
Inside of the fortress are multiple museums, a cathedral, and a former prison where the older brother of Vladimir Lenin was being held. A long time ago, this was the best prison of Russia. No one ever escaped from it and the prisoners communicated through a tapping system. One of the things I've noticed is that many of the prisoners (socialists mostly) died at a very young age. Some of them were hanged, but there was also a woman who turned crazy and set herself on fire! Very disturbing.
You will find the grave of Peter the Great in the cathedral. On his grave lay medals of (among others) the 200th and 300th birthday of St Petersburg. After the first medals were laid on his grave, this turned into a fun tradition.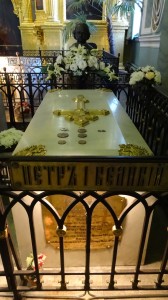 Right next to the fortress is a river and you have a lovely view on the Winter Palace and St Isaac's Cathedral. So, I sat down and enjoyed the view. There were a few sailing boats in the river, so I (sort of) had my own edition of Sail 😉
The day after that, I took the bus to Tsarskoe Selo. It took me quite some time to find that d*** bus, though. It turned out that I've been looking around at the Moskovsky metro station, while I was supposed to go to the Moskovskaya metro station. My bad…
The park and the palace were worth all the trouble. The palace has a beautiful blue color and is surrounded by other pretty buildings in a gorgeous park with a very photogenic lake.
The inside of the palace is decorated with lots of gold and there's an Amber Room (which you were not allowed to take photos of). The Amber Room is decorated entirely with pieces of Amber.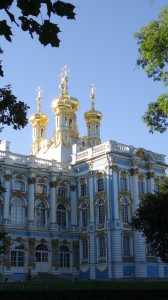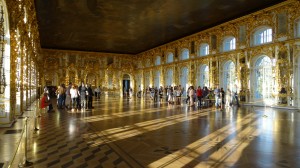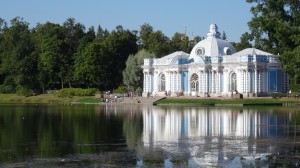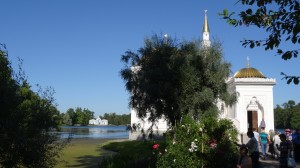 On August 24, I went to the Church of the Savior on Spilled Blood to finally take a look inside. It's pretty, but not that special. It's mostly the outside that makes this church so special.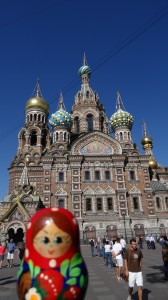 Afterwards, I relaxed a little in the Catherine Gardens. I sat down on some stone surrounding a lamppost, because all the benches were taken. People looked at me like I was doing a crazy thing, but eventually people started to join me. Funny how things work out like that.
August 25 was the day I took the train to Moscow. The Sapsan is a super modern train that takes you to the capital city in only 4 hours and 20 minutes (very fast).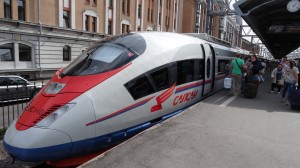 You pass lots of nature and some farmer villages with crappy, wooden houses. I guess you'll only find rich people in the big cities.
When I finally found the hostel I booked it turned out that they knew nothing of my reservations… Thanks again, Hostelworld… Everything turned out fine, though. They offered me the bed in the dormitory room I booked for the same price as well. The people are really nice and the hostel is really clean with good beds and facilities.
On August 26, I went to the Kremlin to visit the Armoury Chamber. In the Kremlin area are many beautiful buildings and in the garden is the Tomb of the Unknown Soldier.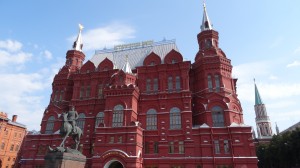 The Armoury Chamber has lots of jewelry, golden plates, massively decorated books, carriages, crowns, and royal dresses on display (again: no photos). Russia's rich!
When I walked outside even more walkways of the Kremlin were closed and guarded. A couple of black cars were driving into the garden where I just walked two hours ago, so I guess Putin's in town.
Also, the Red Square (or 'beautiful square') is taken over by the preparations for concerts starting at August 30.
Near the Red Square is the Four Seasons Hotel, where many people seemed to be waiting for something:
I asked a girl what was going on and she informed me that Metallica was staying there. Awesome!
Near the Kremlin wall is a metal plaque on the floor where people stand on and throw a coin in the air. A few poor people cleverly make use of this and grab all the coins they can find.
Then, I walked to St Basil's Cathedral and a street with many pretty churches.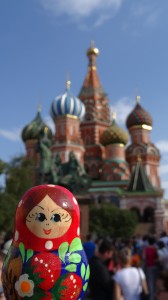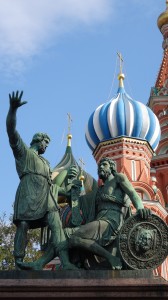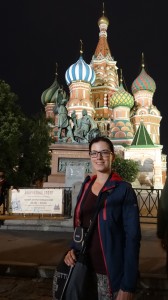 Unfortunately, the entire city seems to be under construction. I do realize that the Kremlin and the Kitay Gorod area would be truly magical if there were not so many things blocking the sight of… well… everything, really.
The metro stations of Moscow are supposedly very beautiful, so I wanted to see that for myself on August 27. The rumors are true. There are a few gems among the many metro stations.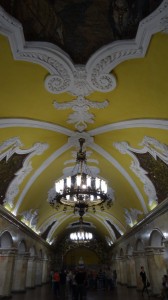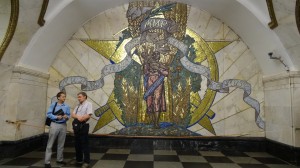 There's also a metro station with many statues. One of them is really special. It is a statue of a guard with a dog. Students used to rub the nose of the dog for good luck on their exams, but now everyone seems to rub the nose. Of course, I also wanted to be part of that and rubbed the nose too. I don't know why but it actually gave me a good and happy feeling.
After I was done visiting the underground, I went to the Church of Christ the Savior. It is absolutely stunning on the inside, but you were not allowed to take photos. It is an Orthodox church, so girls: be respectful and cover your head before going inside. There was a choir singing beautifully and visitors were burning many candlesticks, making crosses all the time, and were kissing the picture frames. People are very religious here.
Then, I walked on to Gorky Park. It is a former amusement park where you can still do loads of amusing stuff! There are carousels, a fountain show, open air theatres, you can play all kinds of sports, hire stuff like skates, bicycles, skateboards, get cotton candy or a delicious meal, or just relax and hang out. A really fun place!
The next day, I went to the Novodevichy Convent. It has a pretty cathedral and some interesting graves.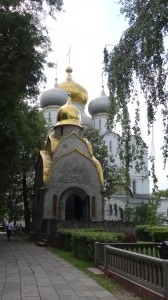 Outside of the convent is a pond with a beautiful view on the modern Moscow City.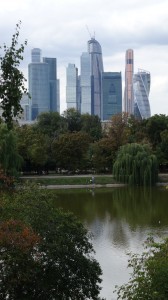 In the hostel I met Edgar, a German man who would step onto the Trans Mongolian Express the next day and take the exact same train from Ulaanbaatar to Beijing as me! What a coincidence! We had nice conversations about Russia, Germany, the Netherlands, and (of course) the train journey ahead of us.
In the evening, I had a Skype conversation with my parents (Spain) and my brother (in Breda with his girlfriend).
Every Saturday at noon, there is a ceremony inside the Kremlin walls. Therefore, I visited the Kremlin on August 29. There are guards everywhere and you are absolutely not allowed to leave the pavement or the crosswalk. If you do, they use their very loud whistles to send you right back.
The buildings inside the Kremlin are very beautiful and the ceremony was nice. There were two orchestras and many marching soldiers who performed a sort of dance. There were also soldiers on horseback that did a bit of pas-de-deux. Near the end, the soldiers fired their guns (which I was NOT prepared for…) and one of the horses staggered.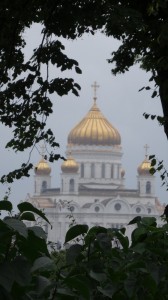 After I visited some of the churches of the Kremlin, I walked towards the Upper St Peter Monastery, which is a few blocks behind the Bolshoi Theatre. The monastery is old, but the bricks and the bronze domes (that have turned green) are definitely charming.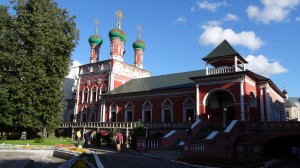 On August 30, I went to Lenin's Tomb. You pretty much have to wait (at least) half an hour for a visit of 5 minutes. Outside are some graves and inside is only the embalmed body of Lenin. The tomb is really dark and creepy…
Even though Lenin himself wanted to be buried next to his mom in St Petersburg, Stalin decided to preserve his body in a tomb in Moscow.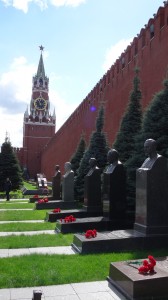 Afterwards, I walked around in the Arbat area and also tried to find the Ice Sculpture Gallery. Unfortunately, I couldn't find it and a quick search on the internet showed that it is closed permanently… It might have been better to not walk around with an old Lonely Planet.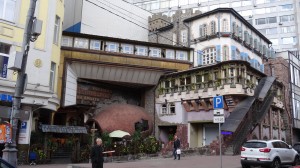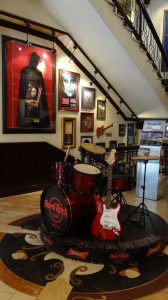 Yesterday, I wrote some postcards and brought them to the post office. Finding the right desk to send mail is quite an adventure on its own! I used my best Russian language skills (out of a book) to ask the women behind the desk to send them for me. They really appreciate it when you try and they actually understood what I was trying to say. Let's hope that all the postcards will reach their intended destination.
I also looked for an internet cafe to upload my photos, but without success. Luckily, Lisa (a hostel employee) let me use the administrator's computer.
Okay, now it's really time for bed. Typing all of this took me way too long and tomorrow I will be taken to my homestay before I will step on the legendary train.
I hope that I can give you all an update in Mongolia, but I can't make any promises. Talk to you later.
Lots of love,
Romana