Mexico & Belize
Hi friends and family!
Mexico is a pretty cool country! Okay, I've only been to the tourist-filled Yucatán Peninsula. But still, it's Mexico. The country of Corona, tequila, tacos, drug wars, sombreros, and Maya ruins like Chichén Itzá. Here are my experiences:
Cancún
Yes… I did go to this party town… Luckily, all the hostels are located in the town's center instead of in the crazy hotel area. However, that also meant having to take a bus to get to the beach. Pros and cons here. In my hostel I met Chris (Mexico) and she gave me some good recommendations. At dinner we met Justin (USA) and Ian (China). We talked about our countries and that the Chinese really do sometimes eat rats or dogs. Just a few minutes later we saw a huge rat walking through the hostel's garden.
Chris told us about mezcal, the lesser-known brother of tequila. We headed to a bar and tried it out. It's… strong… and just like tequila also burns your throat. The slices of orange that came with the Mezcal were a welcome treat. Some of us ( 😉 ) liked the slices of orange better than the drink.
The next day we took a bus to the beach. The sand is really soft and we had fun playing with it. After a while, Justin suggested to walk a bit further along the beach. When we walked out of the water one guy was pointing at something behind us. There was a shark swimming at the exact spot where we just came from! Awesome! Just like with the rat we were just talking about sharks a couple of minutes before one appeared.
A day later I took a tour to snorkel at the MUSA site. MUSA is an underwater museum with 400+ statues that they placed in the sea for coral to grow on. It's pretty cool, but they unfortunately took us to the site that is 8m deep instead of 2m. So, the statues were a little too far down to view properly.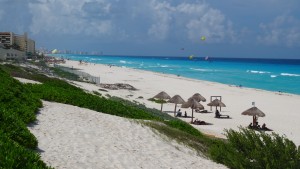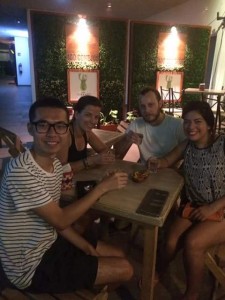 Playa del Carmen
Another tourist destination. When you walk through crazy fifth avenue it feels like this town is created for tourists. Souvenir stores, luxury brand stores, fastfood chains, and tour agencies everywhere.
From Playa I went to island Cozumel. The center looks pretty and colorful, but the real (non-tourist) island not so much. I wanted to visit the Hard Rock Cafe, so I started walking south. After a while I saw a sign pointing to the east. I followed the sign and after a while there was a sign pointing to the north… Again I followed it, but decided to head to the beaches in the east instead. I walked down a busy road and figured there would be taxis passing by all the time. This turned out to be not the case… After MANY kilometers a man on a scooter asked where I was walking and offered to take me to the beach. Super friendly! On the east side of the island I found out why I didn't see any taxis: the east is deserted! So if you go to Cozumel: stay in the west 😉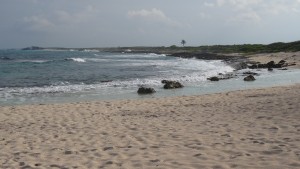 Tulum
In Tulum I saw my first Maya ruins. For as far as I know these ruins are the only Maya ruins on a Mexican beach. And they're pretty cool. A couple of structures with iguanas chilling out everywhere. It did get quite hot and humid, but luckily the archeological site has a stairway going down to a secluded beach.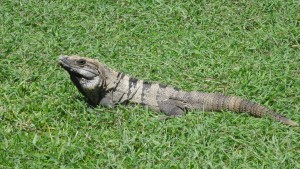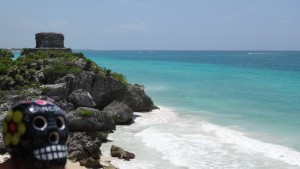 The town is also a bit more hippy with yoga sessions and dreamcatchers being sold. I even found vegan tacos! But I feel obliged to tell you that our European view of Mexican food is not quite right. Tacos are not the hard, corn shells, but rather corn, round tortillas. Tostadas are the crispy version of tacos. However, they do like their beans, spicy peppers, and lime.
Anyway, from Tulum I went to visit two of the many cenotes in Mexico. Cenotes are naturally formed sinkholes. Some of them are crystal clear and have lots of fishes. I visited Cenote Azul and Cenote Cristalino. Cenote Azul is very crowded, but the water is beautiful. Cenote Cristalino is a little less crowded (although they are right next to each other). It also has a cave over a small part of the cenote and lots of those fishes that nibble on your feet.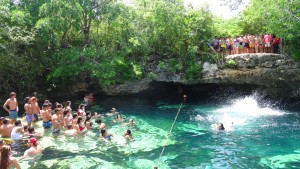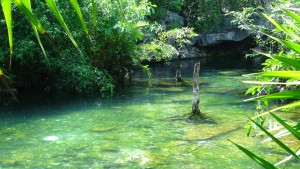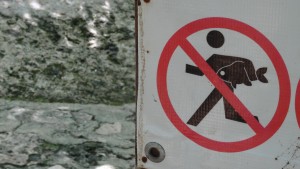 Isla Holbox
Isla Holbox is a nice, laidback, hippy island with lots of expats. After a day on the beach I did what I came to the island for: swim with whale sharks! We had a fun group and a funny guide and captain. On the way to the whale sharks we saw dolphins and a group of manta rays. Our guide asked whether we wanted to swim with the manta rays. Hell yes!! So he pushed us out of the boat right in front of the rays. They are awesome! Then we headed to the location where the whale sharks were spotted. A couple of other boats were already around, but there were enough sharks to entertain all of us. They are so beautiful! Just slowly swimming around, eating plankton all the time. Two by two we got to swim with them. From the surface they don't look THAT big, but when you're actually in the water with them… Well… That's another story. When you're swimming next to them and they turn away from you you have to look behind to watch out that the tail does not hit you in the face 😉 On our way back we stopped at another snorkel site, where we saw small nurse sharks, stingrays, sea stars, a moray eel, and a turtle. We also cruised passed a protected island, where we saw humping turtles. Nice. My underwater camera is one of those old-fashioned ones, so I borrowed some photos: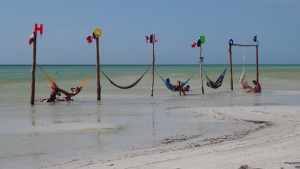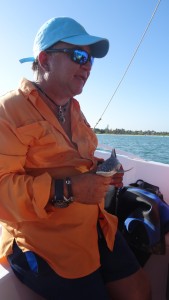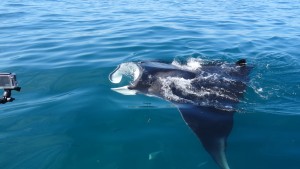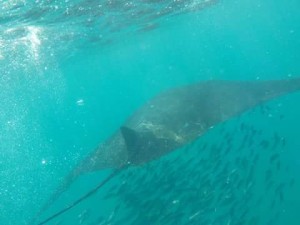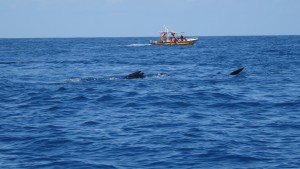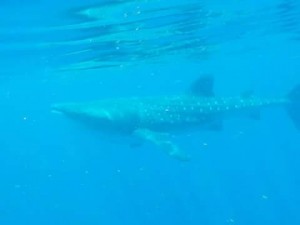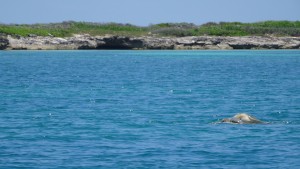 Valladolid
This is the place from where you have access to Maya ruins Chichén Itzá, one of the world wonders. The town has a pretty church and quite a few activities in its surroundings. With my Polish roommate (who had been traveling Latin America for 18 months) I visited Chichén Itzá. We went early to avoid the crowds. 'Cause man, it does get super crowded… The ruins look nice, but not amazing. I'm pretty sure you guys have seen photos of it. Here are mine: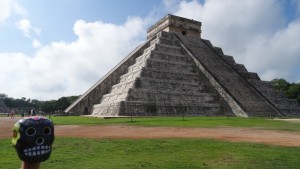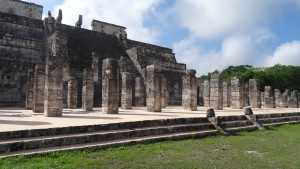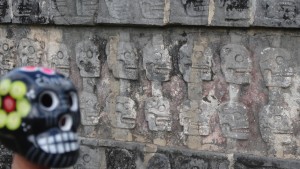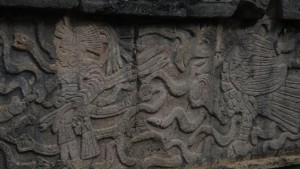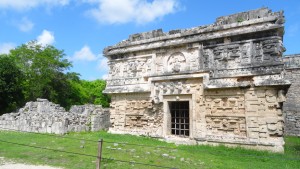 After Chichén Itzá I went to nearby cenote Ik-Kil. Also very touristy and not as pretty as the other cenotes I've seen. But it's still nice to cool down in the refreshingly cold water.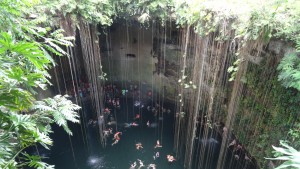 The next day I went to Maya ruins Ek Balam. It is much quieter and (in my opinion) prettier than Chichén Itzá. You can climb the pyramids and from the highest structure you have a breathtaking view. Everything is so green here!
When you go here make sure you're traveling with a group, rent a car, or are willing to pay for a personal taxi ride back to Valladolid. Otherwise you may have to wait two hours for the collectivo to fill up.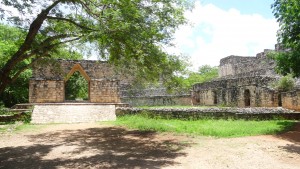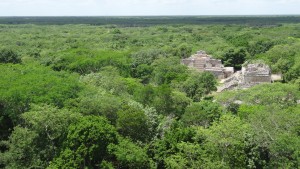 Back in Valladolid I took one of the hostel's bicycles and rode to cenotes Xkeken and Samula. Both cenotes were in an underground cave. The first one is busier and the water of the second one is more clear. From the photos I'd seen from Samula I had the idea it would have tree roots hanging in the water, but I guess they cut them off.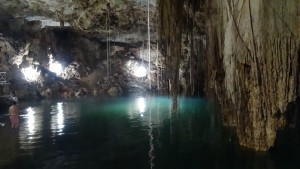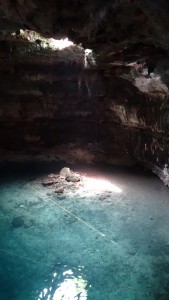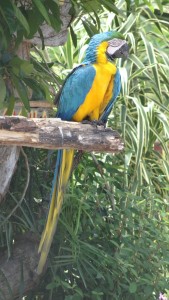 Mérida
My hostel in this city was awesome! Right on the main square, air conditioned rooms, fresh towels, a good breakfast buffet, and pretty common bathrooms. When you're backpacking for this long you really start to enjoy the smallest little luxuries.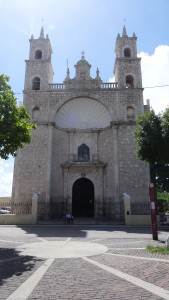 From Mérida I took day trips to Izamal and Uxmal. Izamal is a charming, yellow town with 6 Maya pyramids right in the town's center. The Franciscan Convent is photogenic and there are lots of horse-drawn carriages.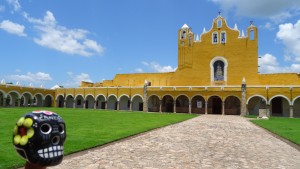 Uxmal is another Maya ruin. The site is pretty big with lots of pretty structures. Some of the pyramids have not been restored and nature has taken over. Next to one of the ruins I sat down in the shade to eat my apple. After one minute or so a big ass iguana appeared and walked straight at me… Next time I go to ruins I won't bring food. A little off the beaten track was some sort of pigeonhole structure. It's really pretty and I was surprised at how little tourists actually went there. I also found an empty path with high grass leading to El Cementario. However, a snake jumped out of the bushes, so I decided to walk back.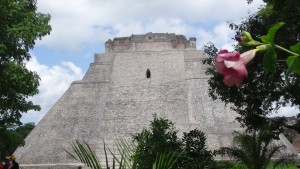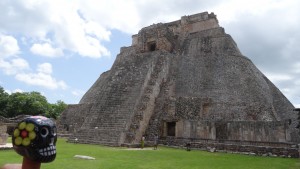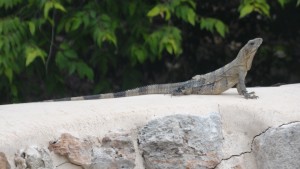 Campeche
This is a nice colonial city with a walled historic center. I just explored the center before going to Palenque.
Palenque
This place is famed for its Maya ruins. It's a huge archeological site, but only a small percentage has been excavated. I had the bad luck that they were restoring many of the temples and was only able to see approximately half of the excavated ruins. However, the ruins I did see were pretty and in the park I saw wild toucans.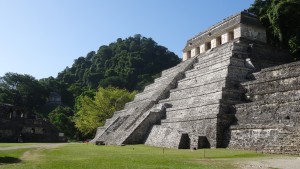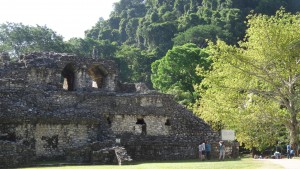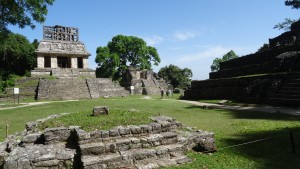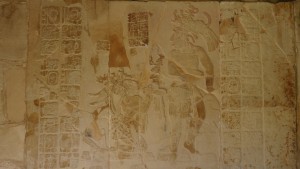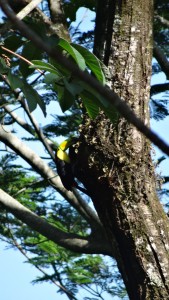 The next day I went to the waterfalls Misol-Ha and Agua Azul with fellow Dutch traveler Lennard. Misol-Ha is a pretty waterfall, but Agua Azul was definitely the highlight. As its name already indicates the water is really blue. At first we thought that the waterfall was "only" the part we could see when we arrived. However, a hike up to the viewpoints showed us that there are actually multiple waterfalls and pretty areas. We enjoyed the views, swimming in the refreshingly cold water, and watching local boys jump in the water.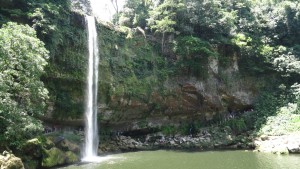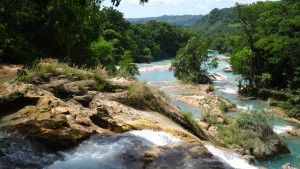 Chetumal
The town itself isn't an interesting place. However, it's close to Laguna Bacalar and offers multiple options to enter Belize.
So I took a collectivo to Bacalar to spend the day at the lake. Pretty much everyone I had met was hyping about this lake and had told me to go there. Sure it was pretty, but I prefer the cenotes. The blue water was less clear and hardly had any fish. The fact that the locals were charging money to enter a public beach didn't really help, either. Okay, maybe I sound a bit too negative. It is pretty.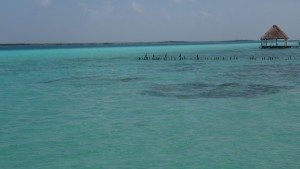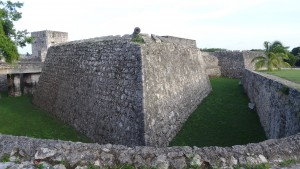 From Chetumal I decided to take a ferry to San Pedro, Belize. The ferry terminal doesn't look much like a border until the military arrives. Soldiers with big machine guns and a narcotic detector dog. It really makes you rethink fighting with the customs official because he makes you pay a fee that you've already paid. Mexico is a really nice and beautiful country, but corrupt as hell.
Belize is the country of beautiful beaches, diving and snorkeling, a great mixture of cultures, and also some Maya temples. Because it used to be a British colony, its official language is English. Not so great for your Spanish skills, but a lot easier.
San Pedro
Wow, the Belizean islands really are what you imagine paradise to be like. White sand, blue water, palm trees, beautiful coral reefs with awesome wildlife, etc. Since I'm not some sort of millionaire I couldn't visit any of the small uninhabited, picture perfect islands, but the Ambergris Caye and Caye Caulker are good alternatives.
San Pedro is a laidback town with colorful houses, golf carts, and a nearby Marine Reserve. Unfortunately, it is really touristy, the men are being overly flirtatious with everything that walks, and the beaches are being used as roads instead of… you know… beaches. I've been told that's because the coastline used to be further out in the sea and the current "beaches" used to be roads. I'm afraid it will not take that long before the first houses will be destroyed by the moving coastline…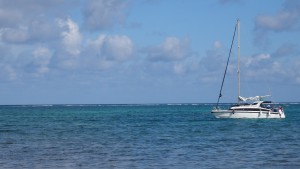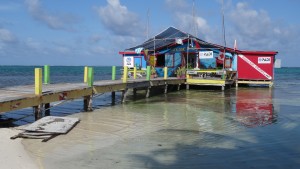 From San Pedro I visited the Hol Chan Marine Reserve and Shark and Ray alley. At the Marine Reserve we saw quite a few barracudas, some nurse sharks, and a lot of fish. Snorkeling at Shark and Ray alley was really cool. The nurse sharks are quite big and move from boat to boat, while the sting rays swim underneath you. I jumped into the water as soon as we arrived, so i don't have any photos to show you yet. To give you an idea of what it's like, here is a borrowed photo:
In my hostel I met some nice girls with whom I visited the beach, went to a karaoke bar (where the intense storm inspired guys to sing "It's raining men"), and skinny dipping late at night.
Caye Caulker
This island has a small town with a very laidback atmosphere. Less tourists, more backpackers. People spend their days sunbathing at "The Split" and party at the sports bar, where you can order cocktails with ridiculous names that even make the bartenders laugh.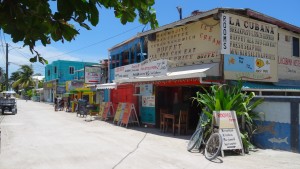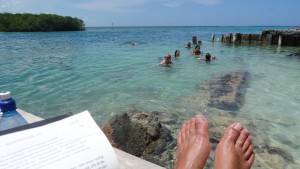 San Ignacio
This "city" is right on the border with Guatemala and has a few activities in the area. The hostel I stayed at was quite nice and I met awesome people there. With Kevin (Switzerland) I took a local bus to visit Maya ruins Xunantunich. After a hike uphill we noticed that we had entered the archeological site without having seen a ticket office. Oh well. We walked around and climbed up the highest structure for a pretty view. There were soldiers keeping an eye on everyone and we saw one archeologist at work. A few days before our visit archeologists discovered a tomb. They believe that it is the grave of a king, which would make it the first king they have found on the site and possibly the largest tomb in Belize.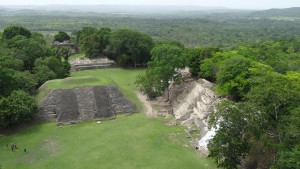 The next day, Livia (Brazil), Yan (Malaysia/Australia), and I crossed the border to start our Guatemalan adventures. We've been here for five days and have already seen and done awesome things. I'll tell you more about that later.
Lots of love