Bolivia
Hi all!
I'm sorry that it took me such a long time to write about my previous adventures. I've been busy… uhm… going to the beach.
So I have just been to Bolivia. How was it you ask me? "I survived" is the only right answer, according to my friend Esteban. 'Cause boy, Bolivia can get REALLY cold… In a country with such big differences in temperature between day and night it's surprising that the houses are not isolated and the showers are cold. But I wanted to see the salt flats, so sacrifices were made.
Here are my Bolivian experiences:
Copacabana
From Peru I crossed the border by bus. The border security was surprisingly… non-existent? It seemed like everyone could pretty much walk across it without any passport modifications. We got our stamps anyway and drove fifteen minutes to small town Copacabana on Lake Titicaca. The town has a pretty church, but the main attraction is Isla del Sol. So the next day I took the early boat to the island with Arjun, whom I had met on the bus. The boat brought us to the northern part of the island, so we could explore and walk to the southern part. In the north we passed pretty beaches and a couple of ruins. On the way to the southern port you come across 3 points where you have to buy an entrance ticket. You'd figure that 1 general entrance ticket would be more efficient, but I guess this is how the locals make their money. The views are really pretty, though. And the island where the sun was born is definitely worth going to.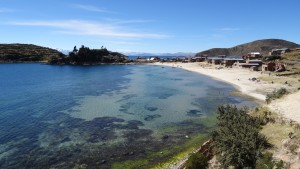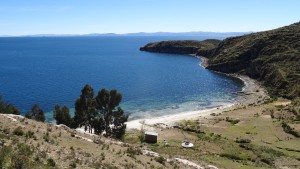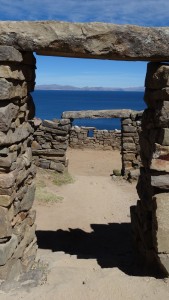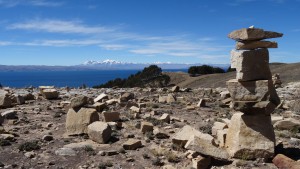 La Paz
After a bus ride and a sketchy boat ride crossing another lake (the bus had to cross without passengers on an old boat consisting of a few wooden planks) I arrived in La Paz. It's a really busy city with a couple of colonial buildings, lots of souvenirs, and a Witches' Market. Next to herbs and potions, the Witches' Market also sells freaky stuff, like dead llama foetuses. These are buried under the foundation of new buildings as an offering to Pachamama. They say that for big buildings they need a bigger offer for Mother Earth: they find a homeless person, get him so drunk that he passes out, and bury him alive under the foundation. Nice…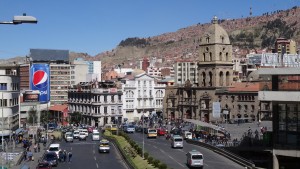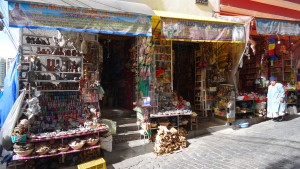 Coroico
The bus to Coroico was a bit terrifying. It's always nice when the driver feels he needs to drive as fast as possible right next to some cliffs… Even though I did not choose to ride a bicycle, this definitely also felt like the "Death Road". The views along the way were really pretty, though. The town itself has a nice, relaxed atmosphere. With my German roommates I hiked up a hill and to the waterfalls. A friendly dog (we named him Alfredo) followed us the entire way. He was a bit crazy, though. Running after and barking at cars. The walk to the waterfalls took a lot longer than expected. Along the way you'll find small waterfalls and eventually the big ones, where all the tourists are.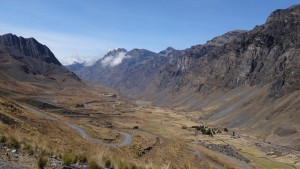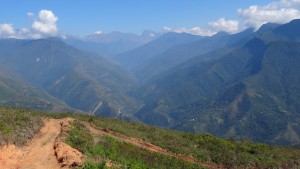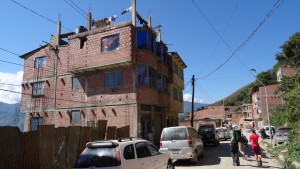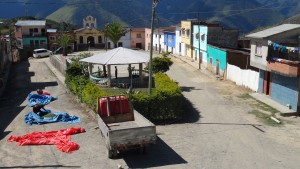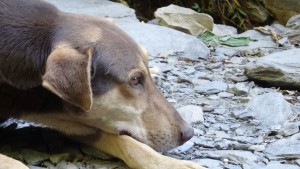 Okay. I tried to turn this image, but that apparently doesn't work on a phone… So turn your head, guys!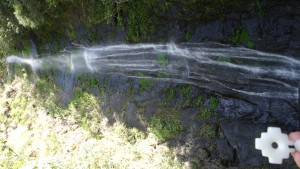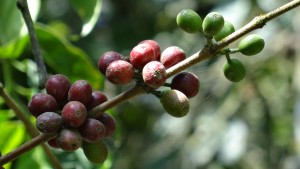 Uyuni – June 6 to 9
Uyuni is cold… The coldest place I've visited on my trip. The town's streets are quite empty, except for all those travel agencies. And that really is the only reason to visit this miserable place: to visit the salt flats. THE highlight of Bolivia. My tour took three days and also included the National Reserve of Andean Fauna Eduardo Avaroa. The group was split up into two cars. In "my" car I had the company of two Brazilians (Alexandre and Geise), one German (Sacha), and two other Dutchies (Alberto and Gerdine). The other car had one Costa Rican (Esteban), one American (Joanna), one Belgian girl, one French girl, and two….. Girls from I don't know where, because they kept to themselves. It was kinda nice to be able to speak Dutch and talk about Dutch stuff again.
On the first day we visited the train graveyard, the salt flats, Inka Huasi, had lunch at a salt hotel, and slept in another salt hotel. That's right. A hotel made of salt. And no, that's not warm. The train graveyard was really cool and popular. The salt flats are pretty. And it's such a big area! The bright white flats cause photos to lose their depth, which make them perfect for funny, surrealistic photos.
Inka Huasi is an "island" on the salt flats. It's covered with cactusses and it was naturally formed when it was under water.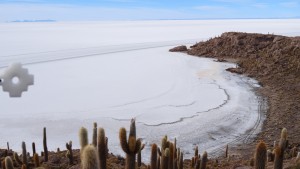 The next day we entered the National Reserve. The day was filled with mountains, volcanoes, and frozen lakes with flamingos. It's so weird to see those tropical birds in these temperatures! At our lunch stop we had the company of cute vizcacha's. They look like rabbits with squirrel tails. In the evening we drank wine while playing cards to keep warm.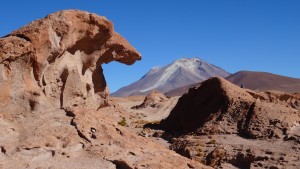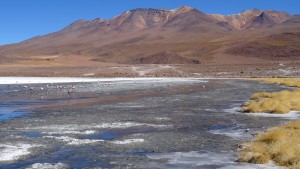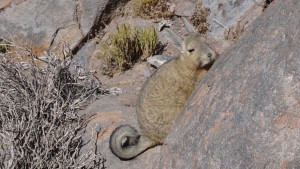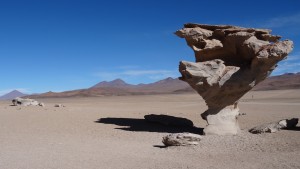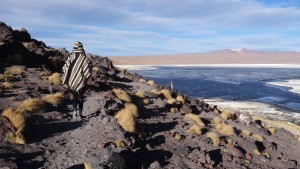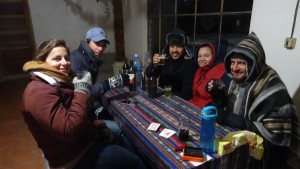 The next morning was early… 4.30 AM! Because we had to drop off some people at the Chilean border. We visited the geysers, lakes, and the Valley of the Rocks.
Since we were both heading to the same Bolivian places, Esteban decided to tag along and we had a lot of fun together. Back in Uyuni, we checked into a hostel that DOES have heating. This, however, also came at a cost. In the middle of the night I woke up, because my dormmates saw a big rat in the dorm.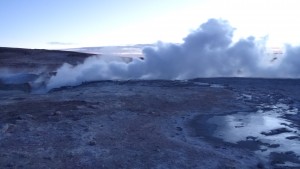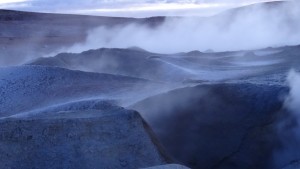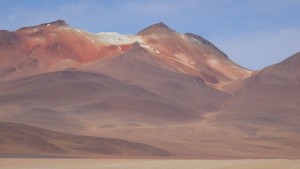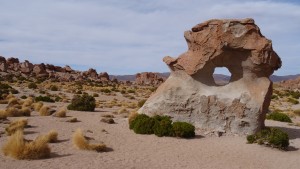 Potosí – June 10
We took a local bus to Potosí. The ride was quite peaceful (me trying to make Spanish-English puzzles, failing, and Esteban correcting me) until the ride turned into a sales pitch of all kinds of products. Luckily we arrived in the city before we pushed the sales guy out of the moving bus.
The city is quite nice. We went to Plaza 10 de noviembre, walked through cute shopping streets, and ate cake. Bolivians love cake. You can buy it everywhere. We were taking photos of a colonial and pretty doorway when a guy stopped and explained the carvings to us. So friendly! After visiting the local markets (they have chopped off cows' heads) we went to a pizzeria for pizza Romana.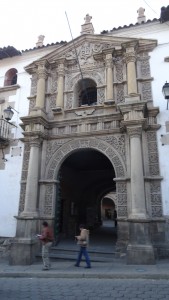 Sucre – June 11 to 13
Sucre is an atmospheric city with lots of history. We saw pretty churches, a cathedral, a local market, and the Freedom House. The Freedom House is a museum about the fight for independence and they shine a light on the most important freedom fighters. It's crazy to realize that Bolivia's current president is only the first indigenous president of the country. In the evening we went to a Latin dance bar. You'd expect that everyone in Latin America knows how to move their hips. Apparently, this is not the case in Bolivia. Luckily, the Costa Rican moves are better and Esteban and I had a good time.
The next day we visited a nearby park with dinosaur tracks. Next to the impressive tracks and dinosaur remains, they also have dinosaur statues in real-life sizes. Fun!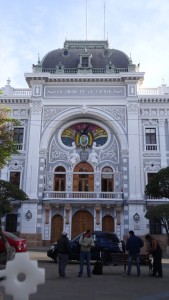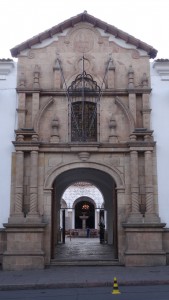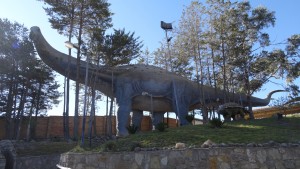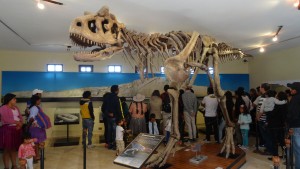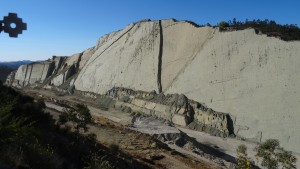 Samaipata – June 14 and 15
Our nightbus arrived in this small and peaceful town at 4.30 AM. In our hostel we met Suzan from Canada. The three of us went to El Fuerte together. These pre-Inca ruins were nice, but to be honest I liked the views of the surrounding nature better. The next day Esteban and Suzan went to the waterfalls together, while I read a book with the company of the hostel's cat Mickey.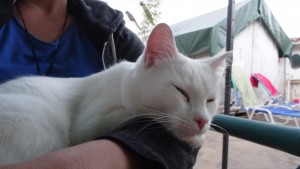 Santa Cruz – June 16 to 18
Okay. Our journey with a minibus to Santa Cruz was weird. Our driver turned out to have some major anger issues. Near the city we came to a busy area with roads that are probably built for two cars heading the same direction, but there are no dividing lines so there are basically three lanes. And they don't drive in a civilized manner either, but just wherever they please. This other driver apparently had not seen us and we almost had an accident… When the other car pulled to the side our driver walked over and (I'm not kidding) beat the crap out of the other driver… Crazy! The other (Spanish speaking) passengers tried to talk some sense into him. I just hope it worked. Anyhoo. Esteban and I explored the city, got Italian ice cream, and went to an "American" diner before we said goodbye and went our own way again. The American diner tried to be overly American with their Elvis Presley statue, Harley Davidson, and other decorations. They even had funny hats of movie characters. I couldn't resist Captain Jack Sparrow's hat and I told Esteban that if I was gonna wear a hat he also needed to wear one. Goofy it was. Everyone in the restaurant looked at us as if we were crazy, but later joined in on our madness.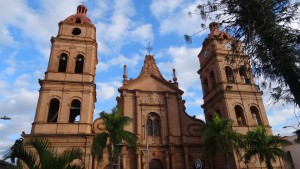 After Santa Cruz I flew to the wonderful Mexico and that's where I still am. From winter I suddenly went to a very hot summer filled with mosquitos, ruins, cenotes, and gorgeous beaches. And more awesomeness. But I'll tell you that later.
Buenas noches!
Lots of love