Peru
Hi family and friends,
Yeay I´m in a new continent (for me). The mystical country of Peru. Known for Machu Picchu, the Amazone, the Andes, bus crashes, and beautiful textiles. I had a really nice time in this diverse country. World wonders, rainforests, mountains, volcanoes, canyons, traditional clothing, colonial architecture, and many animals. The Peruvians do drive quite dangerously, though. Next to cliffs. It´s no wonder that there are so many crosses next to the road. However, I survived and the people are really friendly. They also love to sing about their "corazón", but maybe that´s just a Latin American thing.
This is already my last (full) day in Peru and this is what I´ve been up to:
Cusco
In preparation of the high altitude (3400m) I drank my first Maté de Coca at Lima airport and put chlorophyll in my bottle of water. Luckily, I did not get soroche (altitude sickness) but other travelers did and had to cancel their trip to Machu Picchu because of it.
When I arrived in Cusco I tried to talk to the cab driver a bit (in Spanish). I was really happy that we could understand each other a little bit, but I quickly found out that most other travelers have way better Spanish language skills. The woman I hiked the Mist Trail with in Yosemite National Park had told me that speaking Spanish is quite useless in Peru, because they mostly speak Quechua. However, it turned out that everyone speaks Spanish and most Peruvians don´t speak any English. So Duolingo was my new friend.
During my first days in Cusco I visited many sights. Plaza San Pedro with a church and a market, Plaza San Francisco, Av. del Sol, Qorikancha, the pretty Plaza de Armas, and a textile museum where they explain the entire process of making their textiles and how (some of) the Peruvians grow up with it. They learn how to weave at a very young age and use natural dyes and the hair of llamas and alpacas. At the museum a couple of women were actually weaving in traditional clothing.
On May 2nd Iris arrived! Yeay! It´s so good to see a friend again! We walked through the city and watched the festivities for the Festival of the Cross. Unfortunately, the change in altitude did affect Iris and she felt worse and worse. We went to the companies that we booked tours with to see if we could change our itinerary. Fortunately, the companies were flexible and we could switch our tours around. So we could first go lower (to the rainforest) before climbing up the Lares trek.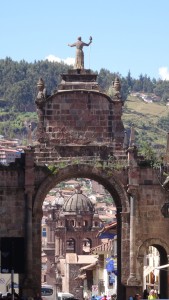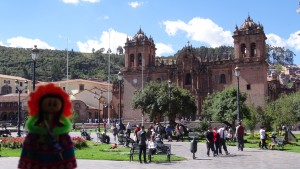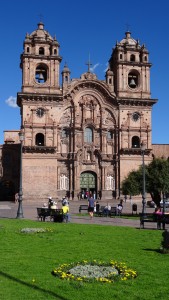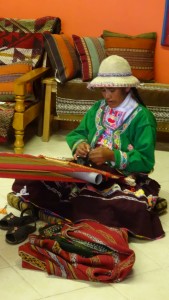 Manú National Park
The crew of Bioandean Adventures picked us up really early and our first stop was Ninamarca to see some pre-Inca tombs and a snow-capped mountain in the distance. After a lunch stop in Paucartambo we climbed higher and higher into the clouds and passed terrifying cliffs. The Peruvians drive pretty fast on those narrow roads… Luckily, we went down into the cloud forest where we saw our first hummingbirds. We also saw lots of other (colorful) birds, many tropical flowers, and waterfalls. Our guide Simon really knows a lot about the Amazone (he grew up there) and has lived a little while with a remote tribe.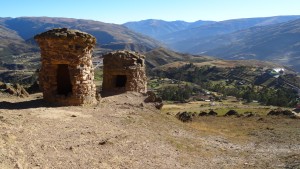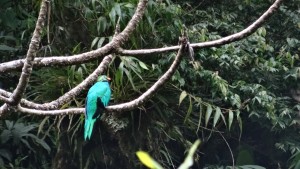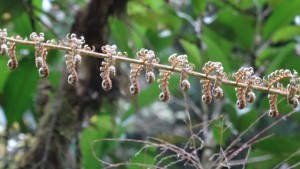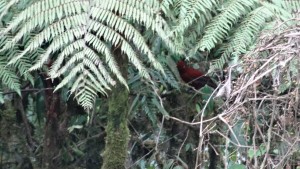 The next day we drove to the river to cruise on a boat through the rainforest. When we arrived in our lodge (sounds much fancier than it is. No electricity and the walls are a few wooden planks. The mosquito nets were not only meant to keep the mosquito´s out, but also other insects like spiders) we took a 2-hour walk through the humid rainforest. Simon showed us all the different birds we could find, tiny spiders, two monkeys, which (poisonous) plants not to touch, and lots of ants carrying leafs. In the afternoon we visited lagunas where we saw Hoatzin (prehistoric) birds, 2 capibaras, 2 caimans, and 1 snake slithered between Iris and me. We were very lucky to see the capibaras and caimans! After an off-the-trail walk we returned to the lodge for dinner. After dinner Simon asked whether we wanted to see a snake, so we followed him with our headtorches. The snake was tiny. Later Simon told us that it is a fer-de-lance viper and that it´s venom could kill you within 1 hour… Nice… Back in our room we checked every single corner for spiders and snakes. Iris: "Two city girls in the jungle".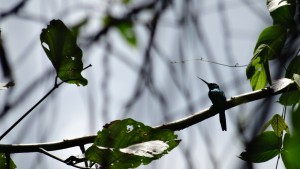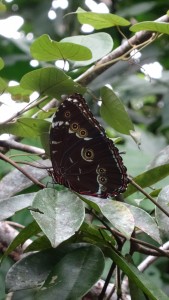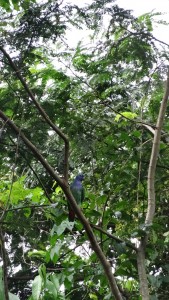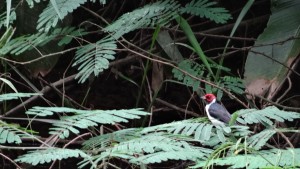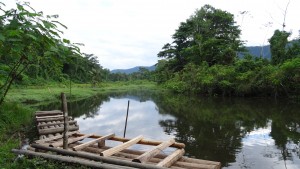 On our third jungle day we went to the parrot clay lick. Quite often parrots go to this rock for the salt in the clay. We waited and watched macaws and parrots fly by. Unfortunately, they did not fly to the clay lick. Oh well, we can´t always be that lucky. We went for a walk and found the tracks of a jaguar. Awesome! We harrassed some "shy" plants (the leaves fold when you touch them), found a "bleeding" tree, a "fertility" tree, a "mother of the jungle" tree, cacao trees, and we hiked to the top of one of the hills. The view was pretty, but boy… Hiking up a steep hill in that humidity sure is tough and sweaty. Iris and I wanted to return to the lodge before it got dark, but our guide thought it was a "fun" idea to sit in the dark and wait for mammals… We could not even see each other! And no mammal appeared. We did take some funny photos with the spider webs, though.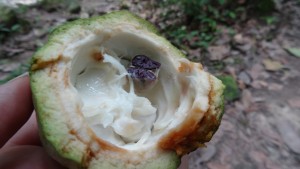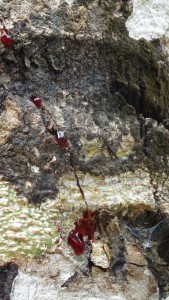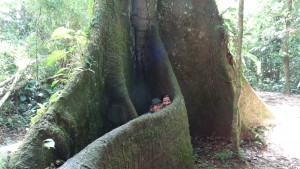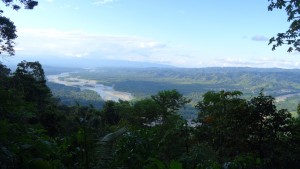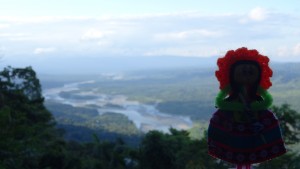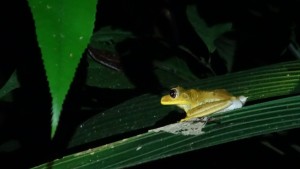 The fourth day was a travel day. Back to Cusco. When we were in the boat heading back to the village, 2 river otters swam in our direction! That is very rare. So lucky! On our way out of the National Park we encountered police agents who checked the cars for large amounts of coca leafs. One tip: even though the coca leafs work better (against altitude sickness) when you just chew on them, they taste a little better when you make tea with them. Back in Cusco Iris and I walked over the Saturday market, which had been taken over by Mother´s Day. We also visited the black market. If your phone gets stolen in Cusco, you WILL find it there.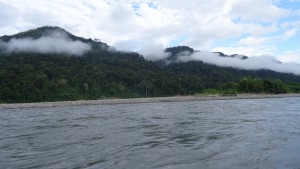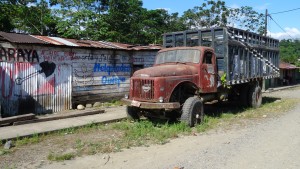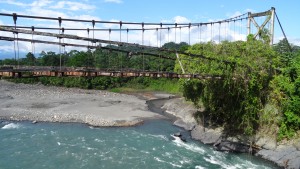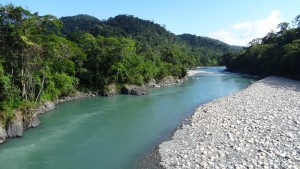 Cusco
On our last full day together in Cusco Iris and I decided to hike up to Cristo Blanco for a nice view on the city. However, we couldn´t find the beginning of the trail. We did find a big rock with a guy from Lima playing a Andean flute. We talked with him and Iris tried to play the Quena flute. It is not easy. And very different from a blockflute or panflute. Alberto knew how to hike up to Cristo Blanco and we followed his instructions with some guys who joined us. The view from the top was really nice and we walked to Sacsayhuaman trying to dodge the steep entrance fee. However, we got punished immediately with a storm of rain and hail. In the evening we attended the briefing for the Lares trek. They told us that the temperature at nighttime would be between 0 and -5 degrees Celsius. We were not prepared for that and bought some last minute (and véry pretty) warm clothes.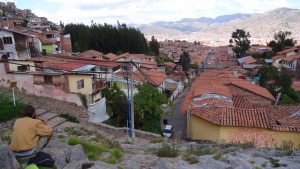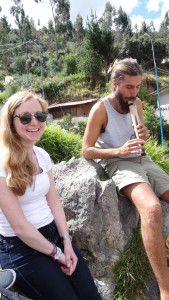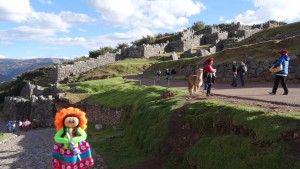 Lares trek
Again a very early morning. We first drove to the Pisac archeological site and our guide Miguel explained about Mother Earth, Father Sun, the Spanish conquerers, and that the Pre-Inca families built their villages on top of mountains to protect themselves from the expanding rivers. After breakfast we drove to the beginning of the trek in Huaran. Iris asked Miguel whether there would be some sort of toilets along the trek or that we had to "do fieldwork". This became the joke of the trek and we kept calling going to the toilet "doing fieldwork". We hiked up and up and up past nice little streams and small villages. At our lunch spot (with alpacas and llamas) we noticed we were a bit faster than was planned and decided to hike an extra hour to a campsite at 4000m, so we would have to hike one hour less on the toughest day. Unfortunately, the Australian woman (50-something) of our group really had altitude sickness and had to take it slow on the following days.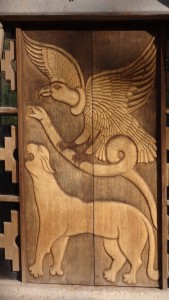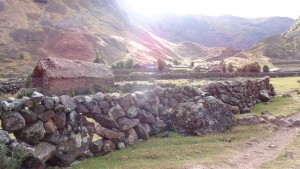 On this tour you really go to sleep early and wake up early as well. You´re tired of all the hiking and it is f***-ing cold at night anyway. So we again hiked up and up and up to the highest point of the trail: 4700m. Very tough, but the views were gorgeous! We saw beautiful glaciers, falcons, chinchillas, and numerous lakes. We also came across a pretty waterfall, where we first saw other tourists. Hiking down actually proved to be more difficult than hiking up. Sure, you won´t get out of breath, but those tiny pebbles are damn slippery. The campsite in Quishuaron was cold, but quite nice. However, our tent was apparently placed on a little slope. In the middle of the night I woke up to find myself lying against the side of the tent with Iris right next to me. Haha.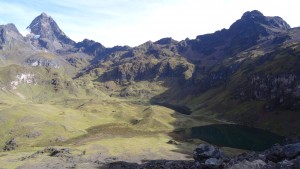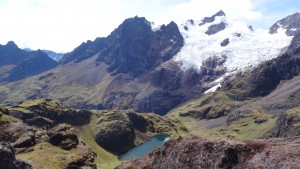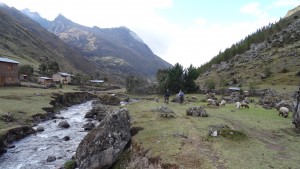 In the morning we passed a lady in traditional clothing and a group of running llamas. And again a whole lot of rocks and pretty lakes. When we finally reached the top of one of the mountains we saw 2 condors! Wow, that´s rare. Again, we were very lucky. We had to hike down a slippery pebble path again and the trekking poles proved to be useful. We crossed a river, sneaked underneath barbwire, were greeted by territorial dogs, and then by a group of kids asking for sweets. We gave them an orange and took the SAM Travel bus to the hot springs in Lares. Going to hot springs after so much hiking and no shower is reeeeeally nice. We drove to Ollantaytambo and caught a 21.00 train to Aguas Calientes. Our train got delayed and departed at 22.15. Luckily, our hotel was right next to the train tracks.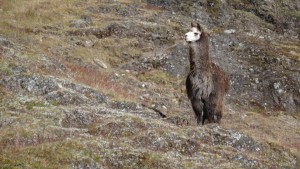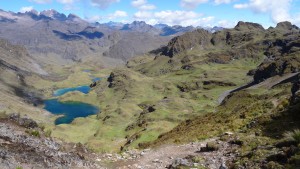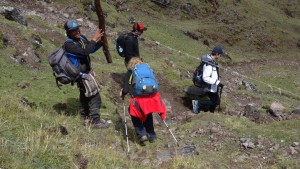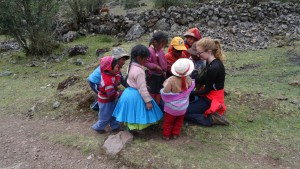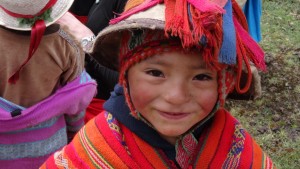 The day of Machu Picchu (or "Old mountain")! We walked to the iconic viewpoint and Miguel explained its history. It was only discovered in 1911. A nearby farmer offered an American explorer to take him there for only 1 sol. An offer he also made to someone else a little earlier, but whom declined because he was running out of time mapping the area. Iris, Alex, and I hiked to the sun gate (which was further away than I expected) and waited for the clouds to clear. It took a while, but the view was nice. Iris and I walked around Machu Picchu, returned to the town and waited on the train with Alex. We waited and waited and got worried. It was already later than the departure time, but still no train had arrived. We went to the ticket office on the other side of the street to find out that the town has one other (an actual train station) place from where trains depart… We ran, but that was obviously pointless. The train had already departed and the lady at the ticket office told us that there were no spots left on any of the trains of that day. Luckily, she eventually did find some (very expensive) spots on a train back to Cusco. So Iris could still catch her early flight.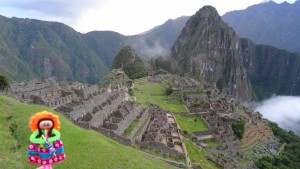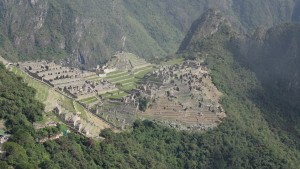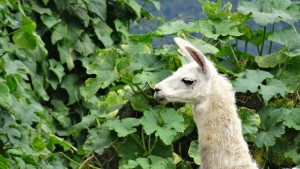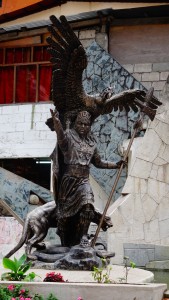 Huacachina
After a nightbus from Cusco to Ica I arrived in Huacachina, a small oasis between sand dunes. The place is mostly focused on tourism with sandboarding and sandbuggying. I met George from the UK and we strolled through the town. In the evening we met 2 roommates from Lima and they took us to a salsa club. We were even surprised that this tiny town actually had a nightlife! The club was full with only a couple of gringo´s. The girl from Lima showed me the basic salsa moves and we had a great time.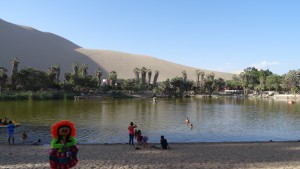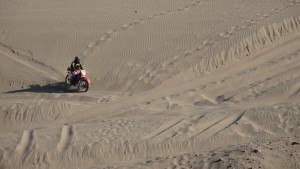 Paracas
Man, lots of Dutchies in this hostel… I kept a low profile and arranged a trip to the Ballestas Islands. The boat trip to the islands was nice. You see lots of birds, a geoglyph, penguins, pelicans, and sea lions. The rest of my time in Paracas I spent at the hostel´s swimming pool, reading books, and playing with the cats.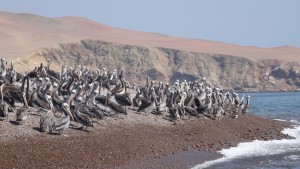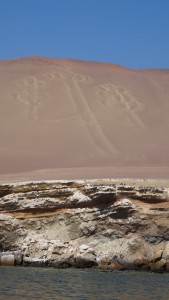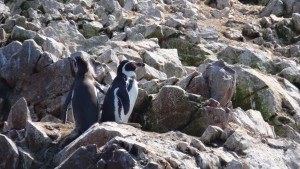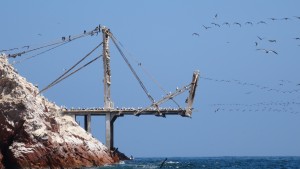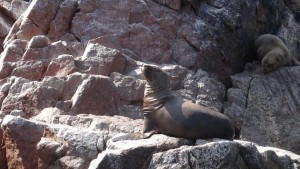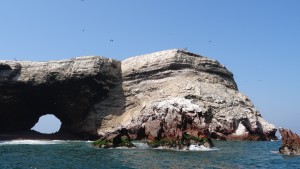 Nasca
I only had a couple of hours in Nasca, so I took a bus to El Mirador (the metal watchtower) to see 2 and a half Nasca lines. You could see the tree, the hands, and what is left of the lizard. It took a while before the Peruvians discovered the lines and in the meantime they had built a highway over the lines of the lizard… Back in Nasca I went to the Planetarium. An old guy pointed out Jupiter, the Southern Cross, and the Big Bear. He showed a video of the Nasca lines and showed the moon and Jupiter through the telescope.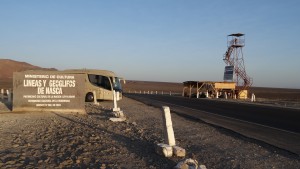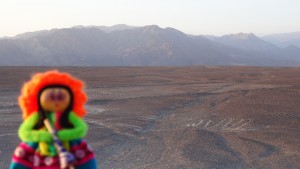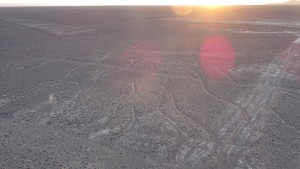 Arequipa
Arequipa is a nice city with lots of colonial architecture. You can also see 3 volcanoes (1 active) from the city and visit the nearby Colca canyon. I visited all the sights and bought Andean flutes as a gift for Iris, who arrived later on the day. We practiced playing the flutes, which was hilariously bad. We visited a bar with locally brewed beers and visited an Indian restaurant. The next day we participated in a free walking tour. Besides the tourist sights our guide showed us "queso" ice cream (delicious) and an alpaca and llama weavery, where we touched the "Peruvian gold" (vicuña hair, very soft). Unfortunately, Iris left me alone again and went back home. I had a nice conversation with the old guy of the hostel. He told me that the hostel owner is his "daughter by heart, not by blood". Beautiful!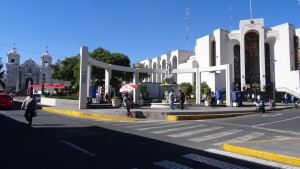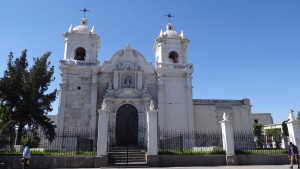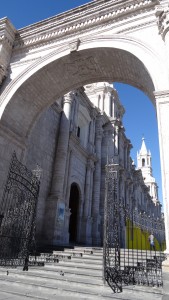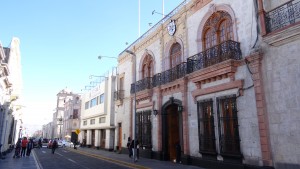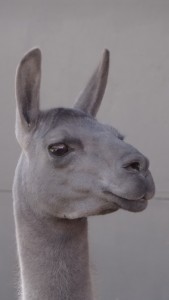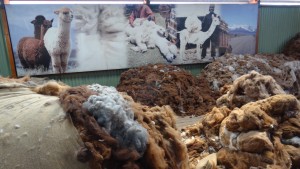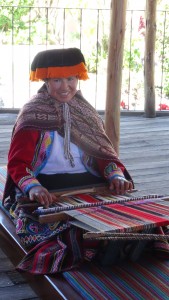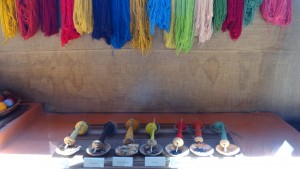 Of course I also visited Colca canyon. In a bus full of South Americans we visited Yanque, saw an active volcano, sat down at Cruz del Condor, where we saw 10 (!) condors, passed mountains where students went hiking a couple of months ago and have not yet returned, stopped in Maca and Chivay, spotted vicuña´s, and stopped at a volcanoes viewpoint. Before the Spanish arrived in this area the locals used to deform the skulls of their babies. The families living in the higher areas elongated them and the families living in the lower parts of the canyon flattened them. However, the Spanish did not like this practice. They stopped deforming their babies´ skulls and wear either high, square hats or flat, round hats instead.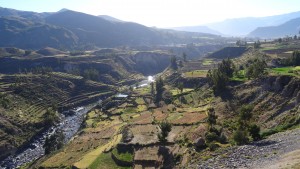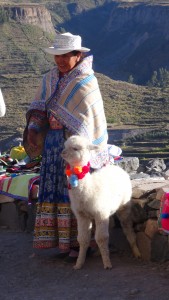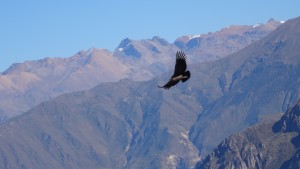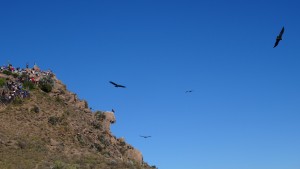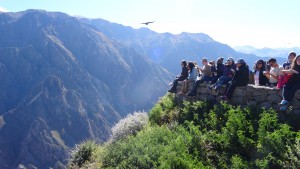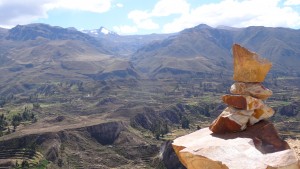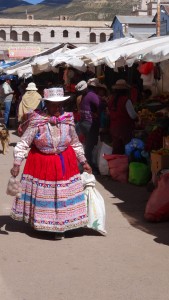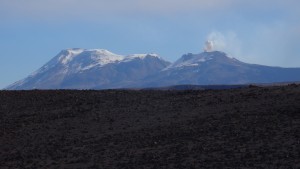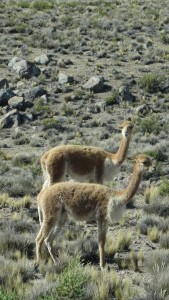 Puno
My last stop in Peru and where I am right now. Thé Peruvian city on Lake Titicaca. I visited the sights and viewpoint in town and took a full day tour to visit the Uros islands and Taquile island. We stopped at a floating island where we were welcomed by some of the 25 inhabitants living there. The women wear very colorful clothing and they sang for us after an explanation of how they build those islands with reed. They brought us to a bigger Uros island with a reed boat before we took a modern boat to Taquile.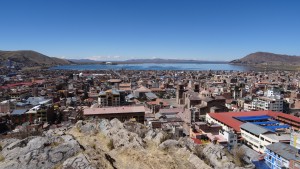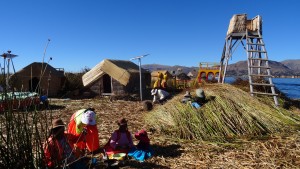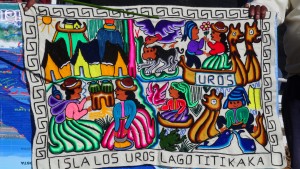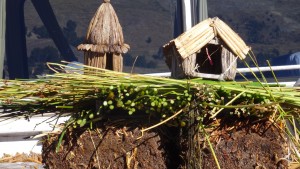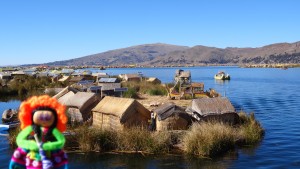 Taquile is known for the knitting men and we did see a few. From the island you can also admire the size of the lake and I had my first glimpse of Bolivia. Snow-capped mountains!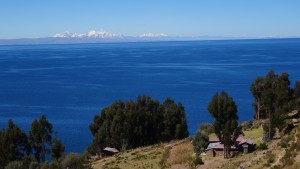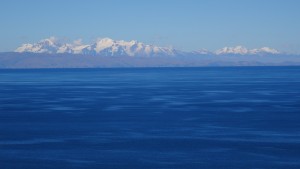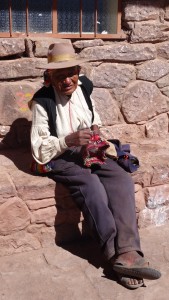 Needless to say my next stop is Bolivia. Tomorrow, I will cross the border and arrive in Copacabana. On my to-do list: the Uyuni salt flats! After my Bolivian adventure I will fly to Yucatán, Mexico.
Yesterday, I had a really nice Skype conversation with my parents and grandma. They told me that my brother (a very busy bee) got accepted for a programme to become a soccer trainer. So proud of you! Do what you love, bro.
Just a couple of months and I will be home! Miss you, guys!
Lots of Love,
Romana