California dreamin'
Hi y'all,
Last month I traveled through California. Hollywood, surfers, palm trees, hippies, LOTS of homeless people, LOTS of expensive cars, bagels with peanut butter and jelly, Malibu, the Golden Gate Bridge, and surprisingly beautiful nature. Here's my story:
Los Angeles
On March 26 I arrived in the City of Angels. Immediately confronted with the smell of marihuana (more than in Amsterdam), a money slurping machine that does not give change (thank you kind bus driver for the heads up), the lovely reminder that you still need to add taxes to the prices, and a Mexican lady telling me to marry an American guy for a green card my California trip was off to a good start.
My hostel was located right on the Walk of Fame and I couldn't resist looking some of them up. After watching the Hollywood sign, a visit to the Chinese Theater, and having found most of the stars (Walt Disney, Marilyn Monroe, Johnny Depp) I still had not found Jimi Hendrix's star. I asked around and got referred to a Jimi Hendrix impersonator. On the question where to find Jimi's star he pointed to the sky 🙂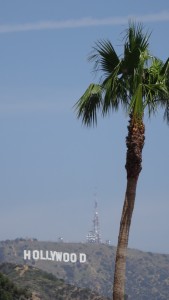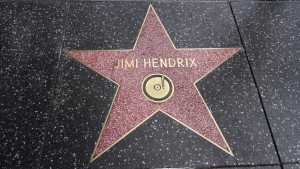 The next day I visited Warner Brothers Studios with Barbara (Argentina). Being major Friends fans we really looked forward to visit Central Perk. We were guided around by the funny Emily and the most important thing we learnt: everything is fake in the movie business. Houses often only have a front, the brick exteriors are actually stickers, just like the "wooden" floors, painted backgrounds, etc. After a visit to a Batman and Harry Potter museum, we visited a bunch of sets (including The Big Bang Theory!), and finally we got to the last museum which shows the entire process of making a movie AND has Central Perk! On the day I visited the studios they were actually shooting for the new Gilmore Girls season, so we couldn't visit Stars Hollow… Mixed feelings about that. However, my friendly guide did point out Lorelai's and Luke's cars and they slowly drove past the set for me to see the town's statue. Spoiler alert: there's gonna be snow. Sorry guys, I'm also a major Gilmore Girls fan. At the end of the tour Barbara and I bought coffee at Central Perk and we both explored the city some more.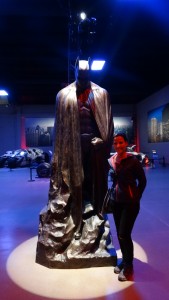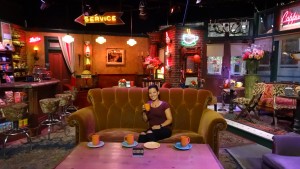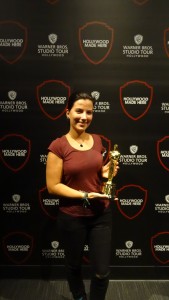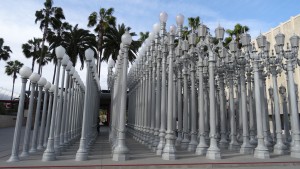 On my way to Santa Monica I walked through Beverly Hills and got harassed by a homeless guy.
Santa Monica
Santa Monica has a way nicer atmosphere than LA. The famous pier is a tourist attraction with a carnival, quirky souvenir stores, and the end point of Route 66. The beaches are pretty and the sunset has lovely pastel colors. If you're planning on visiting LA stay in Santa Monica.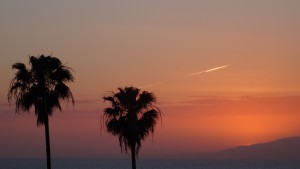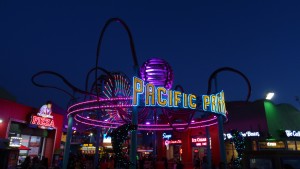 At the hostel I met with Barbara again and we walked to Venice Beach. The boardwalk has nice, arty features, stores selling marihuana and skateboards, a skate park, and an outdoor gym (Californians love to show off their muscles). After sharing Barbara's maté we took a bus to Malibu. The place with beautiful beaches and where the rich and famous live. We walked to Point Dume, which has beautiful views. Barbara pointed to a dolphin in the water below us. But comparing its size to that of the seals showed us it wasn't a dolphin but a whale! Awesome! No wonder the rich and famous choose to live here.
I really wanted to find the Malibu beach houses which are shown in Two and a Half Men, so we went looking for them. We found many luxurious beach houses, but unfortunately not the ones I was looking for.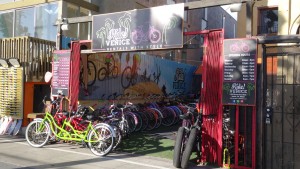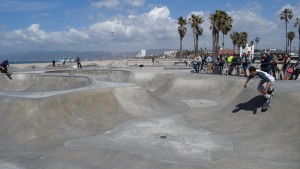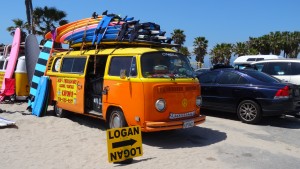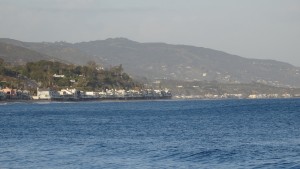 I said goodbye to my Argentinian friend (who got to go to her dream destination: Hawaii), visited Santa Monica's library, and was amazed by the Big, Bigger, Biggest packages in the supermarkets.
On my last day in Santa Monica I strolled over the pier and the Zoltar machine (from the movie Big) caught my eye. A girl beat me to it, but the machine wouldn't take her money. So I gave Zoltar my dollar and waited for his wise words. I know it's a machine and all, but his words were spot on! For the past couple of weeks I've been considering cutting my travels short, 'cause I really miss home. Zoltar talked about travel and basically said that in the end you'll only regret the things you didn't do. That's really true. So I guess I'll keep on traveling. Sorry oma.
Pacific Coast Highway
Since public transportation REALLY sucks in this country and I would otherwise not be able to visit Big Sur, I rented a car to drive on the scenic Pacific Coast Highway. First stop: Malibu to find those Two and a Half Men houses. Although many of Malibu's beaches are private, I followed some surfers sneaking through a gate to get access to the beach I've been looking for. It felt like I was walking among celebrities with their huge sunglasses and I did find those houses!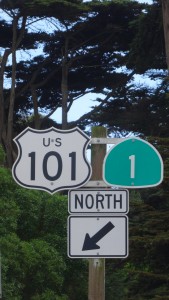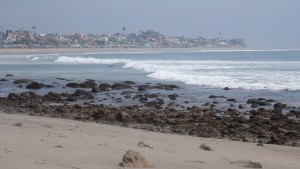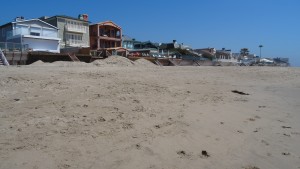 After my small victory I drove to Santa Barbara to visit the Knapp Castle Ruins. They are located quite high up the mountains, but all the frustrations of finding those ruins were worth it.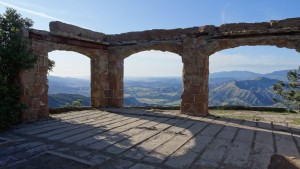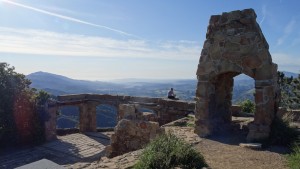 In the evening I arrived at my hostel in San Luis Obispo. It's small with a really nice atmosphere. Whereas the travelers in LA keep to themselves, here the travelers are really open and share their stories (and food).
The next morning I made a quick stop in Morro Bay and drove to San Simeon. On the way a hitchhiker asked for a ride and I dropped him off near the entrance to the Hearst Castle. Luckily, a spot to the Upstairs Suites opened up and I got to see the Castle's library and "gothic room".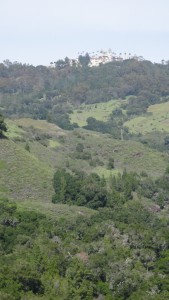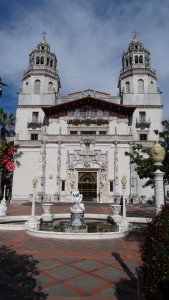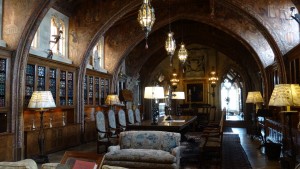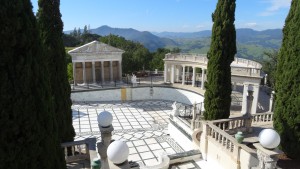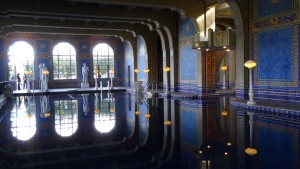 After watching the elephant seals on the beach, I drove along the beautiful coast to my Airbnb hostess in Seaside.
The next day I drove through Monterey and back to Big Sur to explore the beautiful area. There are so many gorgeous viewpoints! I took photos of the Bixby Bridge and stopped at River Inn for coffee. The river behind their restaurant is shallow and they put chairs and benches in it. The water was freezing cold, but relaxing on the river with a cup of coffee was awesome! After this welcome break I drove on to McWay Falls. Boy, it's busy there! But it sure is really pretty.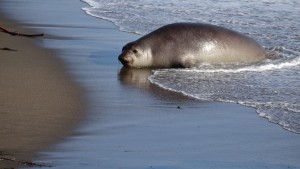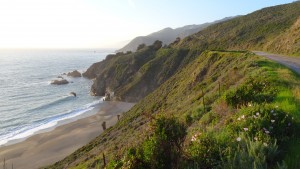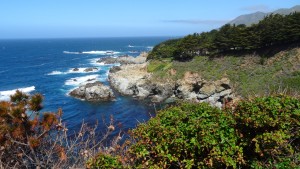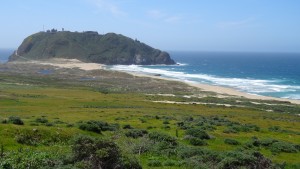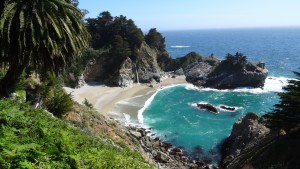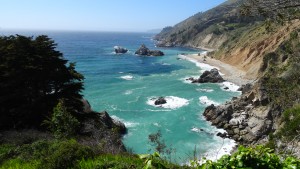 The next day I made a quick stop in Santa Cruz and visited Googleplex (yes, Google's headquarters with a beach volleyball field, free bicycles, and electricity stations for all those electric cars of Google's employees). In San Leandro I took some photos of signs with "Leandro" (my brother's name) on it. One guy commented: "I should be in the photo, I'm a native!" Haha. Just before returning the car I drove over the Golden Gate Bridge into San Francisco. Then, I decided to walk to my hostel in the city center. Not a good idea… I had to cross a very steep hill. With my backpack.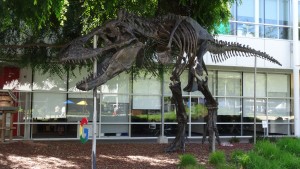 San Francisco
To be honest I did not like San Francisco's city center very much. The streets are filled with homeless and crazy people. People could just start shouting or getting violent for no reason.
However, I did explore quite a bit. I visited the Ferry Building (which has a Gandhi statue), walked past Chinatown and Japantown, played Monopoly Game of Thrones edition with fellow travelers at the hostel, went to Union Square, Civic Center with the City Hall, San Francisco's Greenpeace office (small office, didn't have anything to do for me), and Alamo Square Park with the beautiful "Postcard Row".
If you're more a nature person than a city person like me, you should definitely visit the Golden Gate Park. The park is really big, has a Lily Pond (ironically without lilies), a nice square with fountains, a Japanese Garden, a Dutch(?) windmill, and a lake with an island. Sitting on Stow Lake and watching the beautiful geese is really relaxing. Strawberry Hill in the middle of the lake has nice views over the city, a sanctuary for butterflies, and a small waterfall. Unfortunately, the park also has a bison paddock. The sign next to the paddock was quite disturbing: "Over 100 years ago millions of bison roamed the American plains. But due to the construction of roads, the harvest of their skins and meat, and (listen to this) because they wanted to cut off the native Americans from their food source they started killing the bison and at some point they were almost extinct". Well… At least they're being honest about it.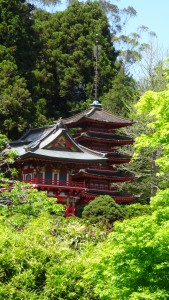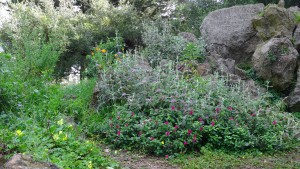 While I was in town Japantown celebrated the Cherry Blossom Festival with a big parade on April 17. It was fun! The Japanese inhabitants of San Francisco proudly showed the culture of their ancestors.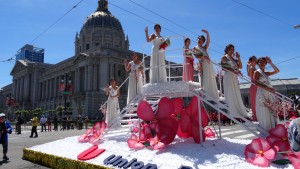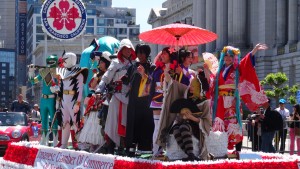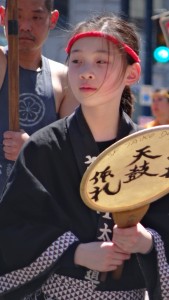 Yosemite National Park
On April 19 I took a Greyhound bus to go to Yosemite National Park. In Merced I had to wait three(!) hours for the YARTS bus to take me to my hostel. Told ya America's public transportation sucks. At the bus station I asked a lady where I could find a café. After she referred me to Starbucks… Of course… I asked where I could find GOOD coffee. She looked insulted.
The hostel is really nice and located in the mountains. I met Antje (Germany) and we decided to visit the park together the next day.
We woke up really early to get to the trails before the crowds. We first stopped at Bridalveil Fall. Man, this park is gorgeous! And there was snow on the top of the mountains!! We took a shuttle bus to the beginning of the Mist Trail. The 5-hour trail has beautiful viewpoints and truly lives up to its name. The trail first takes you to Vernal Fall, where the "mist" of the waterfall completely soaks you. Of course we did not take any rain gear with us on this sunny day, but your clothes dry very quickly 🙂 At the top of Vernal Fall an American man asked whether I could help him out with a photo. Then he turned towards the camera with an arm around me and put us both on the photo. Funny guy. His wife is from Holland, Michigan and told me they learn clog dances at school.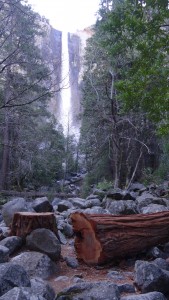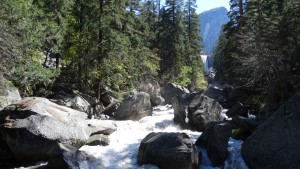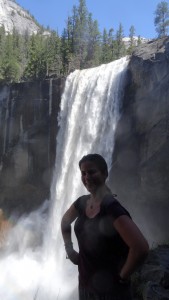 Antje and I continued our hike to the top of Nevada Fall. Most visitors hike down after Vernal Fall and it's clear why. The trail gets more difficult on the way to Nevada Fall. But the effort gets rewarded big time. The views from the top are stunning!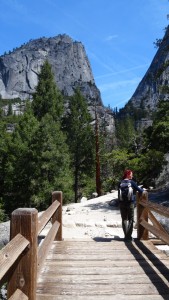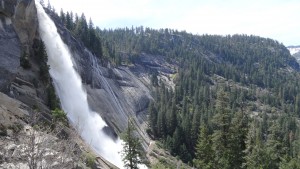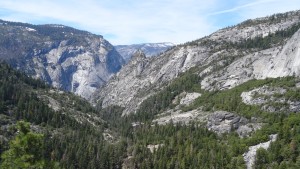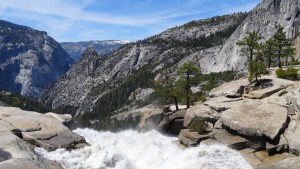 After hiking back down I visited Mirror Lake and Yosemite Falls. But nothing could compare to Nevada Fall. "The best view comes after the hardest climb".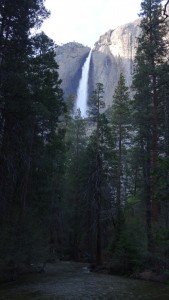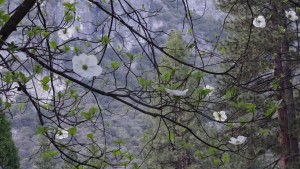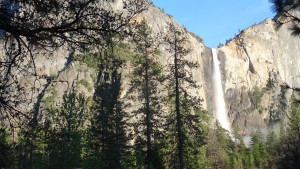 Unfortunately, I had to leave this beautiful place the next day. You see, I had a ticket to Alcatraz (return ticket, no worries) for April 22nd. And those tickets are popular! You have to make reservations weeks in advance…
San Francisco
The hostel I stayed at this time was located near Fisherman's Wharf. While you're having breakfast you have a nice view on the Golden Gate Bridge and Alcatraz. And I have to be honest. I do quite like this part of the city. Right on the water with a strip of nature and not so many crazy people as in the city center.
On April 22 it was raining. A grim day for a grim location. Alcatraz is really interesting. They show a short National Geographic movie with its history, have multiple interesting exhibitions, and have a nice audio tour through the actual prison. The island has a surprising abundance of flowers and there are still marks left of the time when the native Americans occupied the island. A really nice man told me about a hidden sign that most visitors miss. It's really cool that this place was of such importance to the Native American activism.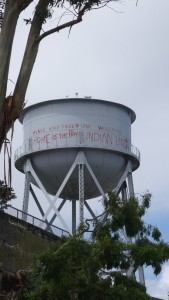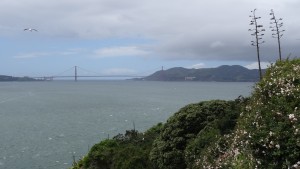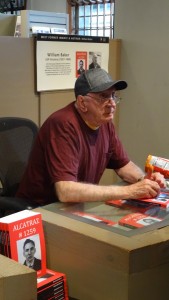 During my last days in California I visited Pier 39, Ghirardelli Square, hippie Haight-Ashbury, and the nearby tiled steps, had my first Tai Chi lesson, bought some necessities for Peru, and rented a bicycle at Basically for Free. The amount of money you pay for the rent of the bicycle you can use as store credit at Sports Basement. And I still needed to buy one of those super sexy zip off pants for my hike to Machu Picchu. Nice deal! I rode along the water, took many photos of the bridge, and came across lots of dog owners protesting the plan to reduce the off-leash park areas. Then, I rode over the Golden Gate Bridge and took photos of San Francisco's skyline. Back in the city I visited the Palace of Fine Arts and hiked up (with the bicycle) the freakin' steep Russian Hill to ride down the "crookedest street".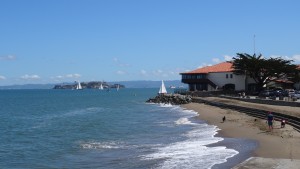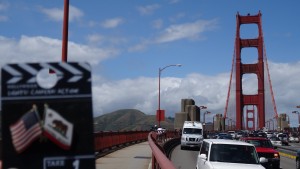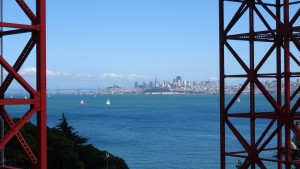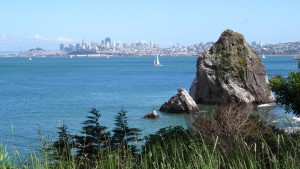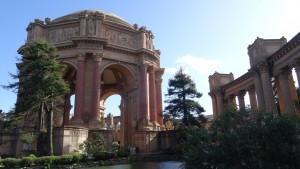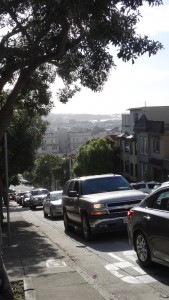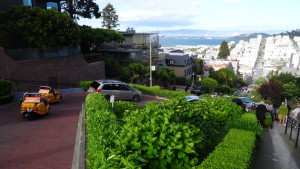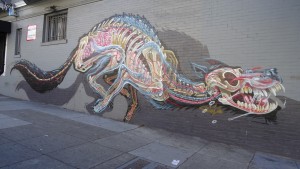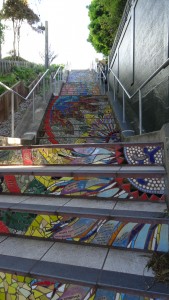 On April 27 I arrived in Cuzco. I was afraid that the major difference in altitude would result in altitude sickness, so I bought liquid chlorophyll and started drinking maté de coca immediately after arrival. No headaches, yet. Yeay! Cuzco is a really nice city and I can't wait to start the Lares trek to Machu Picchu! More about that later.
Lots of Love,
Romana