Surfer Australia
Hi dear friends and family,
It has already been a couple of days since I left Australia to go to South Africa. Now I am in Swaziland with my family and will spend a couple more days with them before they have to return home and I'll travel on toward Cape Town.
Here are my experiences of the East Coast of Australia:
The East Coast has beautiful nature, great wildlife (also cute animals next to all the snakes and spiders), quite a few hippies (next to all the hipsters), and a lot of perfect waves to surf. The people are friendly and a bit too concerned with their looks, but you notice that there still is no true equality. You don't see a lot of Aboriginals, but most of the Aboriginals that you do see are homeless. The Australians also like to drink alcohol and then tend to get aggressive. However, a lot of the travellers here are 18 to 22 years old Europeans (mostly from the Netherlands, Germany, and the UK) that also like to get drunk. Not my kind of people. Luckily, the nature and overall surf vibe make up for it. In Australia I chose a popular route: From Cairns travelling south to Sydney. Pretty much everyone I met travelled this route and went either north or south.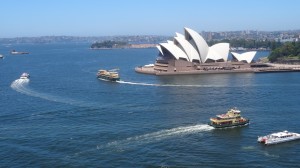 Cairns – December 3 to 5
When I arrived in Cairns I got invited to join the hostel's "Pants Down Party" (yes… That is really the name) where they served pizza, you got to design your own shirt, and you go on a pub crawl. They ordered 3 vegetarian pizza's for me, but I only got to eat a half since they forgot that meat-eaters also like to eat vegetarian pizza's sometimes… Thanks a lot! The pub crawl was fine, though, but the bars were kinda empty.
Cairns is a quiet beach town with public barbecues, flying foxes, and the Reef Fleet Terminal offering tours to the Great Barrier Reef. I booked a tour to the outer reef with 2 snorkelling spots. The first spot was a bit disappointing. After watching Finding Nemo you expect a lot more colours than you actually see. The water has an amazing blue colour, though, and the second spot had more coloured coral and a greater diversity of fishes. One of the guides told us that they had seen some reef sharks over the last couple of days and I asked where I had the biggest chance to see one. On this spot I found Nemo ánd I saw 2 white tip reef sharks! Awesome! That really made my day.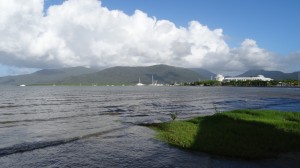 Mission Beach – December 6
I went to Mission Beach hoping to see a cassowary in the rainforest. However, this time I was not so lucky. I rode the hostel's bicycle to the beach to watch the sunset, which had lovely pastel colours. Near the beach were a couple of mango trees and the ripe mango's had fallen to the ground. You actually see this along the entire coast and you can just take these sweet and juicy mango's.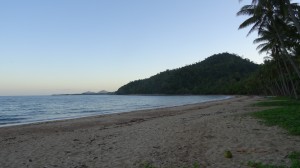 Townsville – December 7
Townsville does not have a whole lot to offer except for trips to Magnetic Island and the Goat Track up to Castle Hill. I walked through the city centre (where they had some urban knitting) toward Castle Hill to walk the track. At the beginning a man, who had just finished the track, told me that I would regret taking my bag (containing my camera, travel guide, and water) with me. And he was right. It is a very exhausting walk up to Castle Hill, but the view is stunning. You can see the entire region and Magnetic Island.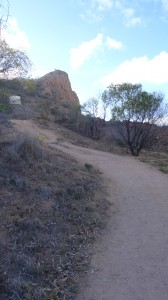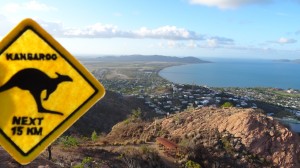 Magnetic Island – December 8 and 9
"Maggie" Island is bigger than I thought. Walking around turned out to be not such a clever idea. Luckily, there are 2 buses every 40 minutes. The island has some nice beaches and some awesome animals. Here I spotted my first rainbow lorikeets, rock wallabies, and a sleeping baby koala.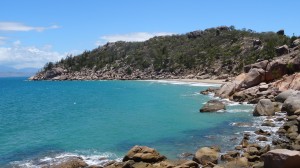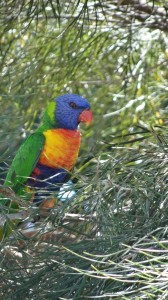 Airlie Beach – December 10 to 13
Airlie Beach looks like a town that was built just for tourists. Lots of bars and souvenir stores everywhere. I don't really like these kind of places BUT this is the place from which you go to the gorgeous Whitsunday Islands. I booked 2 day tours and the first song they played was All I Want For Christmas. There you are on the way to the most beautiful beach in the world feeling homesick. The guide told us that they were filming parts of the new Pirates of the Caribbean movie in this area a couple of months ago. So I can't wait to see the movie with these islands in 2017! The islands are absolutely gorgeous and the view from the famous Hill Inlet viewpoint is the best! You have a stunning view on the white sand and the blue water. If you look closely you can also see stingrays. One of the guides took us for a walk in the shallow water and she showed us a stingray and lemon sharks. On the way to the islands we have also seen tuna, turtles, and dolphins. And on the snorkel spots we also saw a turtle, lots of different fishes, and a group of HUGE fishes. We also spent time on the beautiful Whitehaven Beach.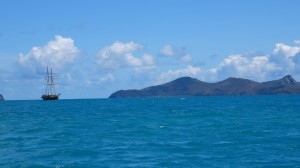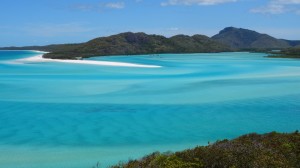 One guy with a Christmas hat was playing with sand and water and I watched him for a while. The end result was this:
Agnes Water – December 14 to 17
This tiny laidback town is the northern most point on the east coast where you can surf. Simone (who I met on Maggie Island) turned out to go to the same hostel and we got picked up from the bus stop by a girl. I told Simone that I thought that she was also a "Dutchie", but Simone wasn't so sure. At breakfast we had the company of her and another guy. It turned out that the four of us were all from the Netherlands, so I asked why we were still talking in English. They responded that they were talking in English for such a long time (3 months?) that now English was actually easier to them than Dutch… Yeah right. Simone and I shared some laughs about the Dutchies refusing to speak Dutch. However, the hostel was quite nice and there were a lot of supporters of Sea Shepherd. Next to surfing Simone and I walked a hiking track in Agnes Water and we walked to the Town of 1770.
Town of 1770 is the second place where James Cook came ashore in Australia in the year 1770. We decided to walk to the monument that they placed in his honour… One tip: Even though the distance does not seem to be that big on a map, DON'T walk from Agnes Water to 1770. We walked for an hour and ended up seeing this monument: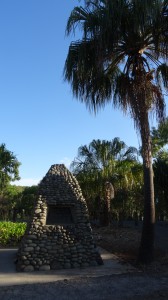 Quite disappointing. However, we did see our first kangaroos on the way! When we walked back an older lady asked whether we needed a ride. She thought that we should also see the sunset viewpoint (which was even further) and she drove us there before dropping us off at our hostel. What a sweet lady!
Rainbow Beach – December 18 and 19
Rainbow Beach is a small town with a beautiful beach that has 74+ different colours. The Kabi people have an Aboriginal legend telling the story on how the coloured dunes were formed. Yinigie (a spirit represented by a rainbow) fell in love with a girl, but an evil tribesman with a killing boomerang had his eyes on her too. Yinigie saved her by throwing himself in front of the boomerang full of evil spirit, got killed, and the rainbow spirit shattered into many small pieces. On the beach you can clearly see all the different colours of the sand and it's quite special.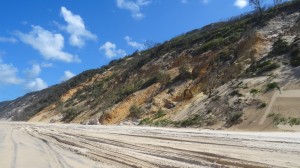 Fraser Island – December 20 and 21
I booked a 2-day-1-night tour to see the biggest sand island in the world. Nomads tour guide Tim knew a lot about the island and made sure that every member of the group had a great time. With 3 4×4 jeeps we drove over the island stopping at the famous Maheno shipwreck and a couple of places to swim. Not in the ocean, though. The very strong current and the sharks are too big of a danger. We went to Eli's Creek, which is a fresh water creek with the water flowing to the ocean. Then we had to hike 45 minutes through the bush to Lake Wabby. Near the lake are beautiful sand dunes and the lake is filled with fishes nibbling on your dead skin. Just sit still and enjoy the tickling feeling.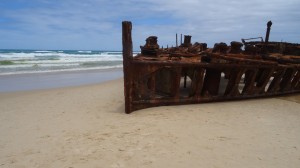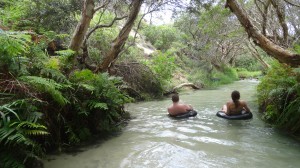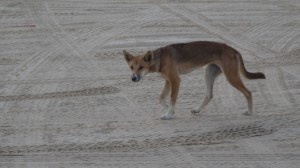 The last day we went to Lake McKenzie. It was a very bumpy ride to get there and Tim told us that quite a few people died on the island due to cars crashing into the trees. We had a fun group in our jeep and we made a bit of a party while we were pretty much flying through the car. The music was loud and everyone sang along to the songs. When the Justin Bieber song Sorry came up all the guys turned their cap around and it was amazing how many people knew the lyrics from beginning to end. I had a great time. At Lake McKenzie (huge lake existing only of rain water) Tim made group photos with everyone's camera's. However, there were approximately 20 camera's and… uhm… people got a bit bored… Here is the end result: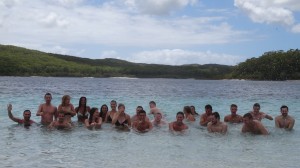 Noosa – December 22
As my Fraser Island departed from Noosa I had already seen a bit of Noosa, the second most expensive place to live on the east coast. The atmosphere is great, lots of organic and gluten-free products, lots of surfers, and the best sunset viewpoint I have seen in Australia. On my last day in Noosa I walked to the Main Beach, to a point from which I could see Noosaville (where all the rich people live), and read a book.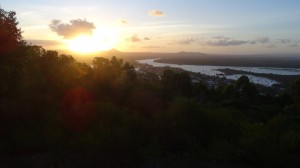 Brisbane – December 23 to 26
So, did I mention that I travelled the East Coast with Greyhound buses? Well this part of the journey was not that successful… The bus driver turned up late and remained seated with the doors shut for a little while. When he finally opened the doors and went out of the bus he walked away. Apparently, he had said something about waiting for half an hour to the people in front of the line and was quite rude to everyone. This lead to a lot of people sharing their bad Greyhound experiences. A couple of people were in a sleeper bus that hit a cow(!) and had to change vehicles in the middle of the night. Other than some frustrated bus drivers and some weird experiences, travelling by bus is actually a quite comfortable way to travel in the East Coast.
Brisbane was the first big city I came across in Australia. It's modern with a few historic buildings, free ferries and buses, and nice areas. South Bank is home to an artificial beach next to the river (the river contains bull sharks, so don't swim there), the Epicurious garden (with free veggies and herbs), and some museums. Queensland museum has a small (dead) white shark surrounded with propaganda on the Beach "Protection" Program, which kills a lot of sharks. Seems like the sharks need more protection than we do.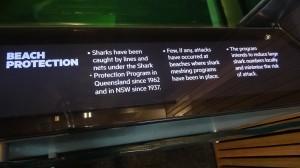 In the city centre I visited King George Square, Anzac Square Memorial, St John's Cathedral, and Old Windmill (blades are missing). I also took a bus to go to Mount Coot-tha, from which you have a nice view on the entire city.
Christmas here is celebrated on the beach. Or in this case on the artificial beach. They exchange gifts and go shopping (or return their gifts) on Boxing Day. Man it's busy in the main shopping street!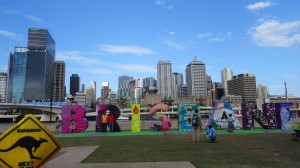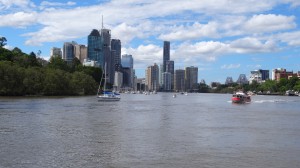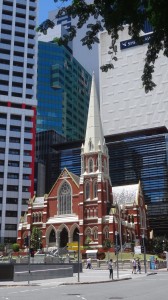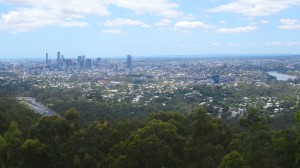 Surfers Paradise – December 27 to 29
I kinda wanted to avoid this place, since it is just a city where you go if you want to party. But with New Year's coming up a lot of hostels were crazy expensive. Even though the city indicates otherwise, the surf culture is lost in this place. Luckily, the hostel was nice and I walked around town when it was not storming that badly.
Coolangatta – December 30 to January 2
This is a really nice, laidback surfer town! Here I met Liv (UK), Roos (NL), Nando (NL), and Thibault (France). According to Kelly Slater Coolangatta's Kirra Beach is one of the world's best surf spots, so we rented boards and went surfing. There are LOTS of surfers here. Not only with "regular" surfboards, but also bodyboards and SUP-boards. However, the current is terribly strong and drags you a long way almost parallel to the beach. Trying to get back to the beach I even had a nose dive, which led to seawater running out of my nose a couple of times during the day. Crazy! For New Year's Eve we first walked to Tweed Heads and then back to "Cooly". The towns are right next to each other, but since Tweed Heads is in another province we got to celebrate New Year twice!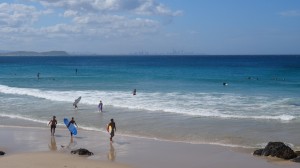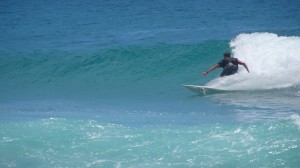 Nimbin – January 3
This town is the only real hippie place left in Australia. It is a little bit more land inwards and it has got a beautiful landscape. People here strive for the legalization of drugs and you cannot walk 10 metres without someone asking you whether you want to buy a cookie. The town is very colourful and it is home to the environmental friendly Nimbin Candles Factory.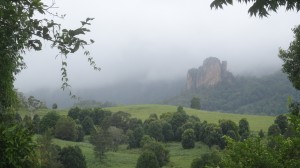 Byron Bay – January 4 to 6
Byron Bay is a hippie place that turned into a hipster place. Luckily, there is still a laidback, hippie feeling with a lot of people walking barefoot, farmers markets, surfers, and quite a lot alternative stores. I walked along the coast to visit the lighthouse. It is quite a walk, but the views are stunning. You see Byron's different beaches, Australia's most eastern point, and even some dolphins. At the lighthouse I ran into Roos and Liv again. We enjoyed the views before walking back to the town's centre. Back in the hostel I met a German couple. The girl was afraid of pretty much all the dangerous animals of Australia. We talked a bit about them and how New Zealand does not have that many deadly creatures. To my surprise they told me that they went kayaking in Brisbane's river. I asked them if they knew what kind of animals swim in that particular river and told them that the river is full with (pretty aggressive) bull sharks. I don't think they are gonna go kayaking in Sydney's harbour anymore 😉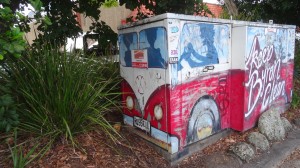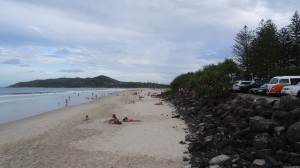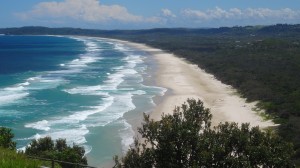 Port Macquarie – January 7 and 8
Liv and I both went to this place to go to the Koala Hospital. Seeing koala's in the wild is pretty rare, so the hospital has a lot of visitors every day. It is located in the middle of a forest, so watch out for spiders and poisonous caterpillars… Port Macquarie also has painted stones walls and I saw a group of kangaroos.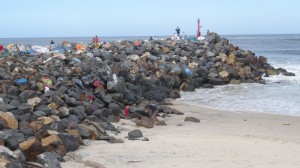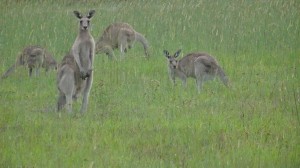 Sydney – January 9 to 15
The last place of my journey in Australia is the famous Sydney. Of course I visited the main highlights: Opera House, Harbour Bridge, The Rocks, Manly (penguins are breeding here), Bondi Beach, and the Royal Botanical Gardens. I also visited Darling Harbour, an Aboriginal Rock Carving site, and the Public Library, which has a replica of Abel Tasman's map of Tasmania. The hostel was not that welcoming, but it was cheap and had okay facilities. There was a French (drunk) guy that started to talk to me. He said that I should experience Sydney's nightlife and if I didn't I would not really have experienced Australia. However, this guy had been in Australia for one month and had only seen Sydney. Needless to say that he and I did not get along. Luckily, my roommate Ariane (18, Germany) was nice company.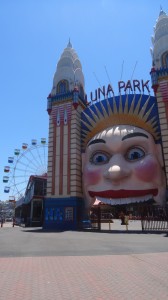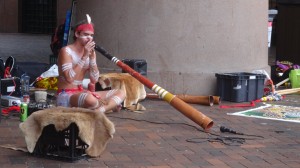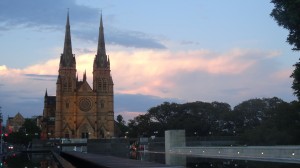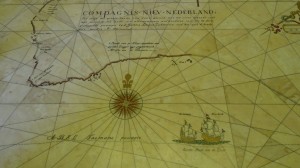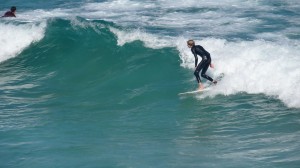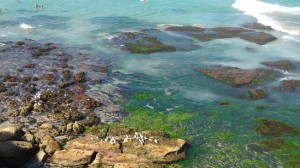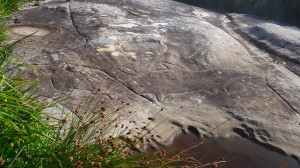 One of the places around Sydney that you absolutely must see is the Blue Mountains. I took the train to Katoomba and walked to Echo Point, from which you have a nice view on the Three Sisters. According to the Aboriginal legend three sisters fell in love with three men. However, the law forbade them to marry each other and the men made plans to capture the sisters. A battle started and a local witchdoctor wanted to rescue the sisters by turning them into rocks for as long as the battle lasted. However, the witchdoctor got killed before he got the chance to reverse the spell and they remain in rock formation.