South Africa
Dear family and friends,
The time is going fast. I've already been traveling for seven months. It's been a while since my last update. Sorry about that.
In the last two months I traveled through South Africa and I took a lot of photos during my stay. The country is really beautiful and the landscapes are very diverse. The people are friendly and in small towns everyone greets each other. The wildlife is also amazing! Elephants, giraffes, zebras, rhinos, hippos, lions, whales, sharks, etcetera. Even though Australia is known for its dangerous animals, it is South Africa where I've come across wild snakes and scorpions. But the thing I love most about my South African journey is that my family joined me for ten days. Here are my adventures:
Pretoria – January 16 and 17
After my flight arrived in Johannesburg I went straight to Pretoria. There I visited the Union Buildings and walked 4 km to a shopping center just to go to the Body Shop.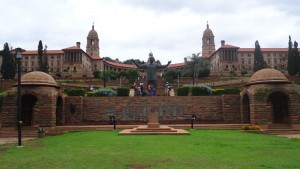 On the walk I noticed that, contrary to in Europe, the city center is the poor area and the rich people live outside of the center. This is true for pretty much all the South African cities I've visited. Weird. Then I went back to Johannesburg to wait for my family to arrive. Yeay! It's so great to see them again!
Botshabelo – January 18
We rented a car and my dad quickly adapted to driving on the left-hand side (after some troubles at first). Our first stop was Botshabelo Cultural Village, an old, deserted village with painted walls. We noticed some animals walking in the distance. Later we noticed that they were impalas and zebras. Our first wild "game" animals. How cool!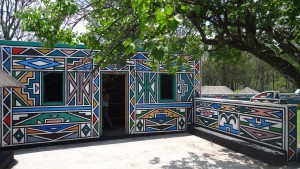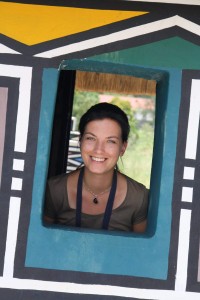 Graskop and the Panoramic Route – January 19
The Panoramic Route is really beautiful. Our first stop was The Pinnacle, with beautiful scenery.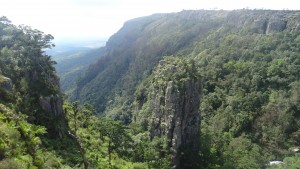 Second, we went to God's Window, which we expected to be one of the highlights. Unfortunately, it was kind of a letdown after The Pinnacle. However, on our way back to the car a snake crossed our paths 🙂
Third, we went to Bourke's Luck Potholes.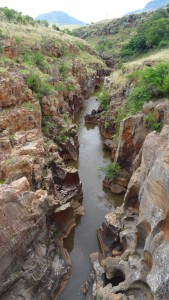 Fourth, the stunning Blyde River Canyon.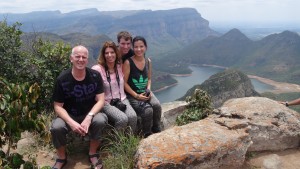 Our last stop was Hoedspruit Endangered Species Center, where we saw cheetahs.
Kruger Park – January 20
In the early morning we were picked up to go on a safari at the Kruger Park. The guides talk to each other through walkietalkies and immediately turn the jeeps around when lions have been spotted. The whole day was amazing. We saw impalas, kudus, springbokken, crocodiles, a tortoise, pumbas, zazu's, hippos, giraffes, zebras, waterbuffalos, wildebeest, elephants, hyenas, wild dogs, vultures, and a lioness with her son. The rhino we saw was walking back into the forest very, very, véry far away, so we can't really say we saw one. Back at the hotel Leandro used our outside shower with an amazing view overlooking Kruger Park. At dinner we had the company of a bread stealing bush baby, called Sugar.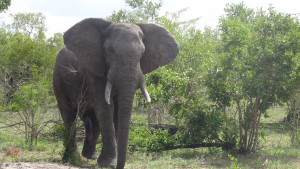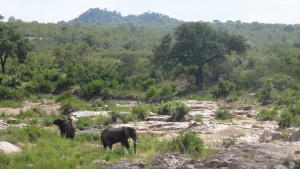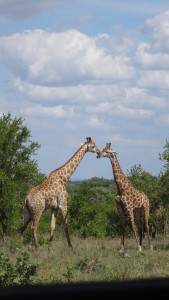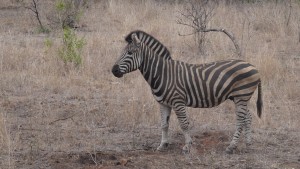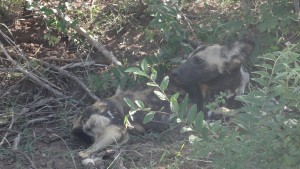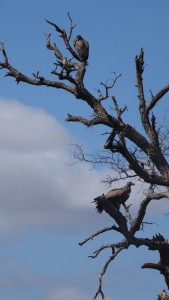 Swaziland – January 21
Swaziland has a beautiful landscape with many planted forests for the timber industry. We visited a dam, the Ilala Weavers museum, and tried to hike to a waterfall. The way to the waterfall was kinda primitive, had steep stairs, and the final bit to an actual viewpoint of the disappointing waterfall was just plain dangerous, so we went back. From our hotel we were able to see rock formation Sheba's Breasts. They believe that Solomon's mines are beneath it.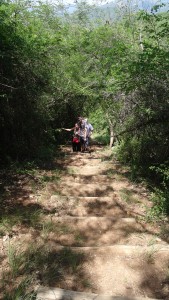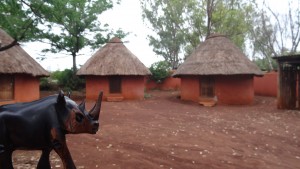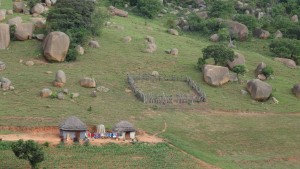 St Lucia – January 22 and 23
St Lucia is a lovely town on the coast where hippos are walking through the streets at night. The hotel owner spoke in Afrikaans to us and taught us some funny words (a thong is called "amperbroekie"). We went on a hippo-croc boat tour on the river and we saw a lot of hippos. Even more amazing: a bull shark swam next to our boat! Awesome!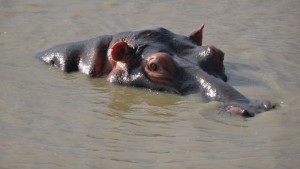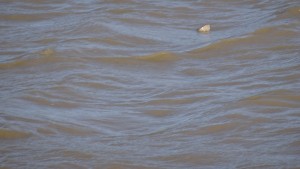 The next day we went to Cape Vidal, which is a national park with a pretty beach, a few kilometers north of St Lucia. We only spent two hours on the beach, but everyone had a sunburn. Leandro even looked like he'd gotten into a fight… If you want to see a photo of that, send me a PM 😉
Shakaland – January 24
At Shakaland hotel in Zululand they show the traditional Zulu life in the time of King Shaka. They welcome you in their traditional village (where a poisonous caterpillar somehow got on my shirt), take you to the medicine man, show spear throwing, blade making, a traditional proposal, traditional dances, and you sleep in rondavels (round houses). When we returned to our rondavel after dinner we had the company of three scorpions (one was humongous!). In spite of all the dangerous insects and the fact that the villagers were all actors, we had a great time here.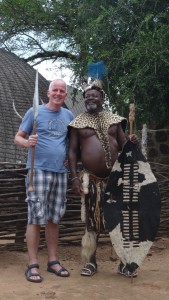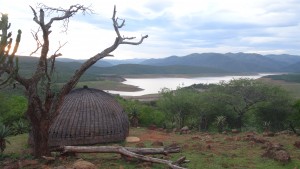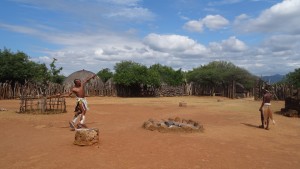 Umhlanga – January 25
We spent our last full day of our trip together in the Saint Tropez of Africa. We took it easy and played Ticket To Ride. For dinner we went to a fancy restaurant called Little Havana. I was hoping on delicious, Italian coffee, but they had Douwe Egberts… The food was great, though 😉
Durban – January 26 to 28
After lunch and another game of Regenwormen my family brought me to my hostel in Durban and we said our goodbyes. Again. This time it was harder than the moment I actually left the Netherlands. They went back home and I tried to figure out which places I want to visit. In a supermarket I met a local cop and we visited the Botanical Gardens. He (and another car guard) convinced me that it is not safe to walk to the Victoria Market (he has the scars of former stab wounds to prove it), so we went there by car and to an Indian restaurant for lunch. The Bunny Chow (curries in a loaf of bread) is really nice. But the city really does not feel safe. Lots of homeless people and an overall unpleasant vibe.
Coffee Bay – January 29 to February 2
Coffee Bay is amazing! Not only because of its name, but the scenery of the Wild Coast is gorgeous. I stayed at a really nice hostel that organises day trips. My dorm room was in a rondavel just across a small river. There were cows walking on the beach and local women selling jewelry.
On the first day I went on the very popular day trip to Hole in the Wall. We had a large and fun group. The hike took three hours and the views along the way were amazing. We also came across cops on a rocky beach. Björn (Sweden) pointed out that there was a white sheet covering you-know-what near them. We're lucky that they found him before we did. At Hole in the Wall we went into the (very cold) water.
My second day trip was to the caves and cliffs. Two German girls and a Dutch girl (most travelers in South Africa are either Dutch or German) joined me and we were guided by Lucky, Minty, and Jerry. Their Xhosa names are probably too difficult to pronounce with all those clicking sounds 🙂 We hiked down a very steep and slippery hill, walked into a cave with bats, saw a whale in the far distance, and did a small cliff jump. Small, but still scary.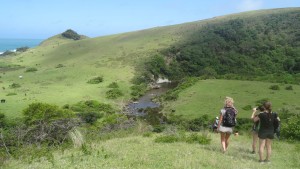 The third day trip was a Village Walk. Jerry guided us around in his Xhosa village. They live in rondavels (made of soil, water, and cow dung) and family members live next to each other. Villages are separated by rivers and they still perform many traditional rituals.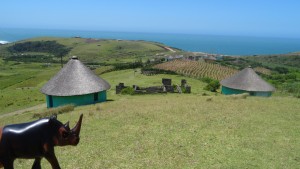 The fourth day was a relaxing, beach day. Due to a power cut you could see SO many stars!
East London – February 3
In my hostel in East London I met a student group from "Jo-burg" and they gave me some recommendations on South African food. East London is not that interesting, so I quickly moved on.
Port Elizabeth (PE) – February 4
Just like East London, PE was only a stop in between the interesting places. From PE I would take the Bazbus (backpackers bus) in the direction of Cape Town.
Jeffrey's Bay – February 5 and 6
In this surfer town I went to the main beach, the Billabong factory outlet, Supertubes, and the laguna, where I watched a few kitesurfers. On my way back I did a beach cleanup and in the evening I went horseback riding over the (steep) dunes and on the beach.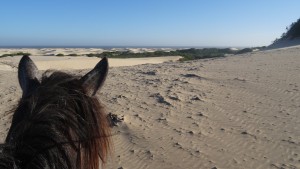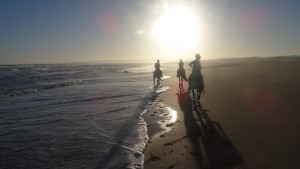 Storms River – February 7 and 8
Storms River is the place from where you visit the 1000-year old Big Tree and the Tsitsikamma National Park. The scenery is beautiful and the hostel had a whole bunch of animals to cuddle.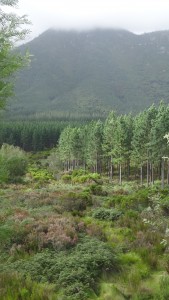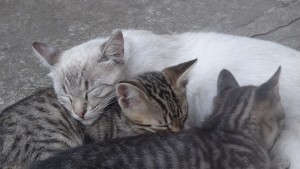 The Crags – February 9
In The Crags I stayed at Wild Spirit, a great hostel with a stunning view (of course I forgot to take photos…). I hiked to the nearby waterfall, crossed paths with another (tiny) snake, joined a campfire, and admired all the stars. We even saw the milky way!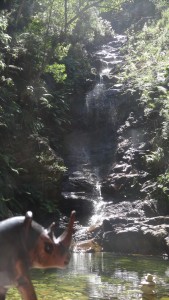 Plettenberg Bay – February 10 to 12
Here I was supposed to swim with seals, but it was cancelled twice. However, I did go on a horse safari and that was amazing! Just riding between zebras, impalas, ostriches, wildebeest, and giraffes. How cool is that?! Right at the end of our ride guide Robert spotted a rhino. We walked towards her, she towards us, and she was absolutely gorgeous!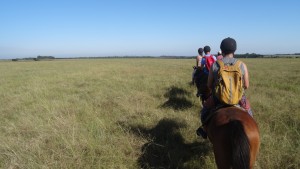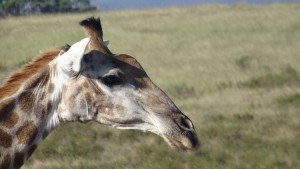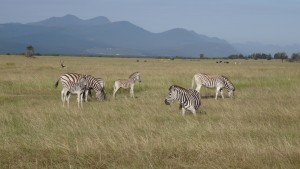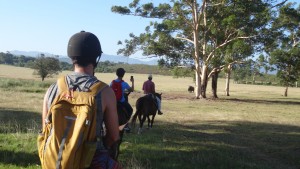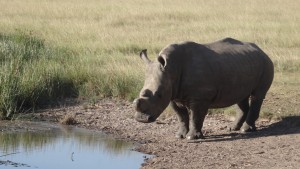 Knysna – February 13
In Knysna Lisa (Germany) and I went to the waterfront and talked to the local guys in our hostel. They told us that even though there is no more apartheid, there is still a lot of discrimination… When the Hero song (by Matshikos) blasted through the speakers, they all sang out loud and explained that that song promoted hope in townships in the time of apartheid.
Wilderness – February 14 to 17
For Valentine's Day Justin (England) gave all the girls in the hostel in Knysna a red rose, so Lisa and I both got some funny looks in the Bazbus. With Colin (Canada) I walked over the train track to a cave house, owned by a guy with some serious hoarding issues. On the way we came across a Czech film crew with some sort of bicycle to ride on the train rails. After a nice dinner with some people from the hostel I slept outside under thousands of stars.
During the other days I relaxed, read my book on the balcony, went to the beach, did a road cleanup, and went paragliding. Yes, me.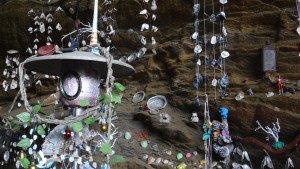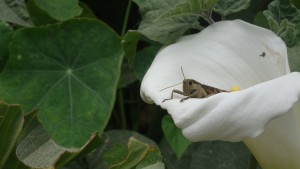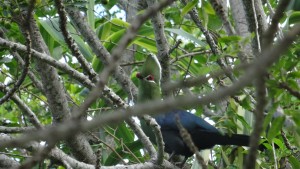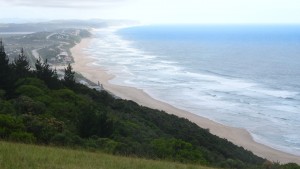 Mossel Bay – February 18 and 19
In Mossel Bay I stayed at a hostel located in an old train on the beach. It's really cool and all, but they didn't have a communal kitchen. I went to the Dias museum, bought two novels about sharks, seen the lighthouse, and watched surfers.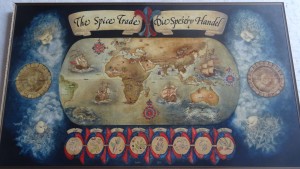 Hermanus – February 20 and 21
This is the place to see whales. Of course it's not the whale session, but it's still worth a shot. I went on an eco boat tour to see the Marine Big 5 in Kleinbaai (dolphins, seals, penguins, whales, and sharks). Quite fast after takeoff we saw a humpback dolphin with her calf.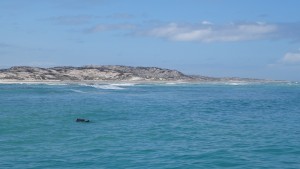 Then we went to the area with the shark cage boats and waited. I was really afraid that the one animal I wanted to see most would not appear… But then she did appear and she was gorgeous! She circled our boat a couple of times before she was lured to the shark cage diving boat. This is one of my favorite experiences!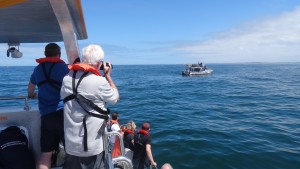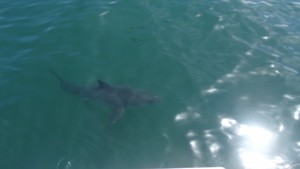 From there we went to Dyer Island to (try to) spot a few penguins, Shark Alley to watch the seals, and on the way back we got close to a Bryde's whale.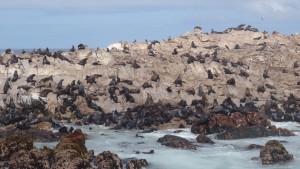 Stellenbosch – February 22 and 23
Stellenbosch is a university town with an incredibly large amount of vineyards in the area. The white houses with Cape Dutch architecture are lovely. In town I visited the VOC Kruithuis, the Botanical Gardens, and the university. A local tour guide recommended a couple of vineyards for a wine tasting and you can't really leave this country without tasting its wine. I rented a bicycle and went to Stark-Condé. The tasting area is located on a lake/pond surrounded by mountains. The scenery is great and the wine is really good (especially Pinotage).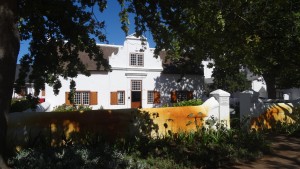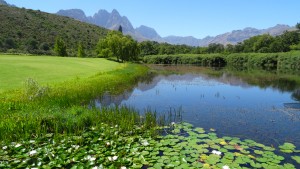 Cape Town – February 24 to March 13
Yes, I stayed there that long. People had told me about the 6-month itch, so I decided to spend quite some time in one place where I would not get bored. First, I stayed at a hostel near the Victoria & Alfred Waterfront (with a cat that loved to sleep on my bed) and later at a hostel in the Gardens area. Of course I did all the touristy stuff: Table Mountain, Company's Gardens, South African Museum, Slave Lodge, Bo-Kaap, District 6, Long Street, City Hall, Castle of Good Hope, Neighbourgoods market in Woodstock, sunset at Signal Hill, etcetera.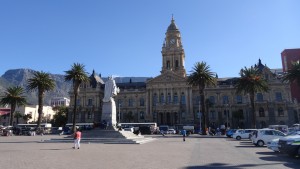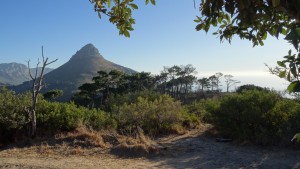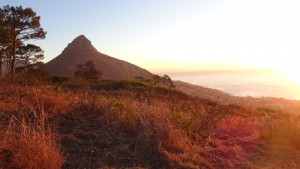 Oh, and not to forget a Cape Peninsula tour. They took us to Hout Bay, Chapman's Peak Drive, Boulders Beach (lots of penguins), the old lighthouse, and Cape of Good Hope.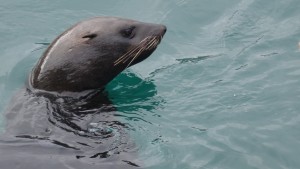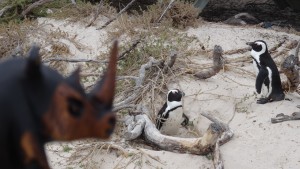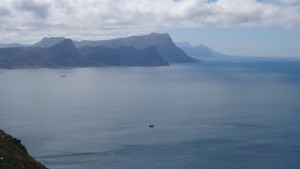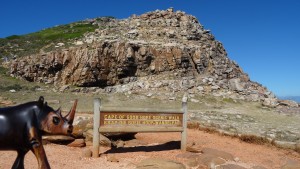 I also visited a Titanic exposition, Table View (pretty views on the mountains and 100+ kitesurfers), and went to a summer concert in Kirstenbosch Gardens.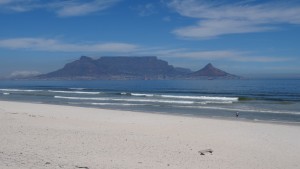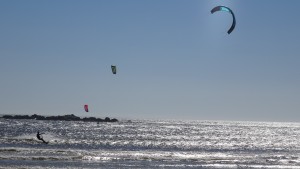 Cape Town is also quite modern and health-oriented. There is a vegan restaurant (Plant), a place that sells vegan, handmade chocolate (Honest), and you get the most delicious coffee at steampunk-style Truth Café.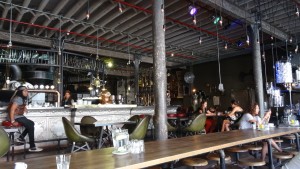 On my last night in Cape Town I joined people from the hostel to the carnival, which was a lot of fun.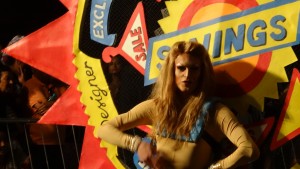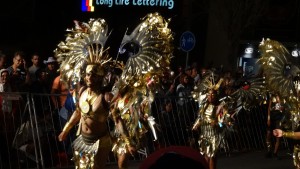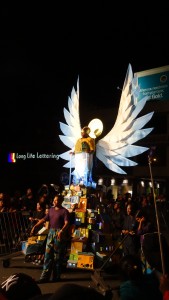 Unfortunately, I did miss my grandmother's 80th birthday. Sorry oma. But I am definitely gonna make up for it when I'm back. For now I'm in Namibia, but I'll tell you about that on a less "ungodly hour" 😉
Lots of love,
Romana